I came across a fascinating site today. At Discover Africa, you can search for images with only an African flavor. So, search for "playing soccer" and you'll get ones that are geo-tagged in Africa or that also have another tag of "africa" on them. To do this, they've plugged into one of the poster children of Web 2.0, Flickr, to do it too. Pretty useful.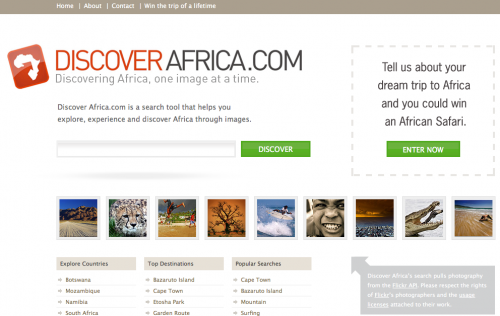 After a quick email dialogue with the organizers of the site, I came away more impressed They didn't stop there though, and this is where they move from "pretty useful" to "pretty smart". They've created this service as a way to generate a list of people who are interested in Africa and they are also running a campaign where two winners will win a dream African safari. You can enter the competition by blogging (using a traditional blog, Flickr or YouTube) about your dream trip to Africa in 100+ words with a link to Discover Africa.
"To do this you're going to have to have a genuine interest in, or love for Africa – we'd like to see that come through in your entry."
Why I like this
I like what Discover Africa is doing because it's smart.
They have created a valuable African image search tool.
They're using the hosting, computing power of Flickr and all of their huge user base.
They're giving the value first, then asking you to join in and be a part of it.
The campaign looks easy and fun, and it has a big prize.
If it works, they'll get a ton of search engine love.
I'm interested in seeing how this campaign goes. Who knows if they'll actually share the numbers, but I plan to scan the web, in another 2 months, for results on the number of blog posts that have been written to enter this competition.
[Update: the below issue has been taken care of already. That was quick.]
Okay, the one thing I don't like… When you click on an image to show it (see below), then there's no way to get from their site to the image on Flickr. If I want to see the licensing usage for that image, I can't easily find it. All they need to do to make me happy is make the image clickable, or create a link beneath it. Simple, and I'm sure it'll make a lot of photographers happy too.