No organization is in a better position than the GSMA to get data on mobiles globally. After all, they're the global association for almost all of the world's mobile operators. When they release a report, it's worth looking at. This time they've done a great job of putting some of their research and statistics into visuals, check the full report on "The Mobile Economy 2013" website. It's a virtual treasure trove of valuable global and regional mobile information.
Some interesting takeaways:
3.2 billion mobile subscribers at the end of 2012
Data is what is driving the growth to the tune of 1,577 Petabytes of data, with the biggest driver being video.
Africa is expected to see a 79% growth in data by 2017
SMS usage is growing, but slowing in growth to 28%. This is thought to be from VOIP and social networking apps.
77% of all connections globally are pre-paid
The GSMA is pushing their "OneAPI" approach, which I wish the African operators would subscribe to, as everyone would make more money – MNOs included
Average revenue per user has dropped form $30.3/month in 2008 to $25.9 in 2012 – this is a big deal in Africa.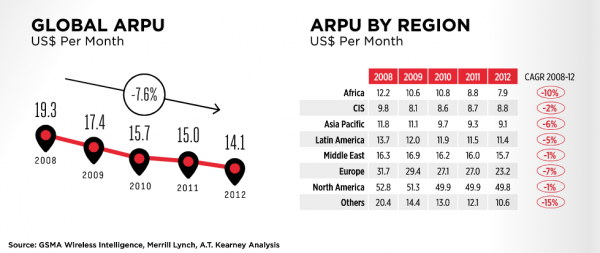 Most people don't appreciate just how much investment goes into creating viable mobile networks. To put that in perspective, see the chart and comments below: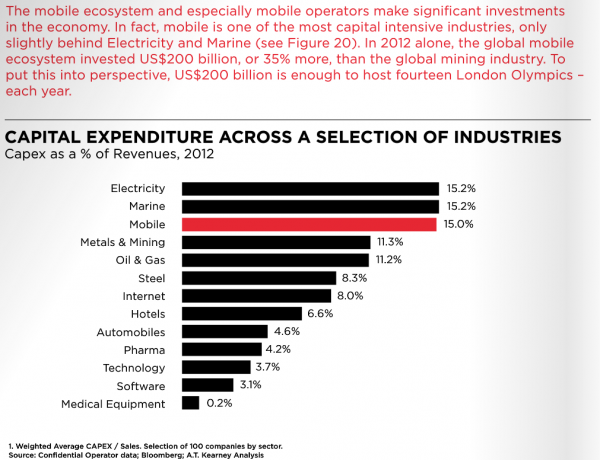 The mobile industry, if you go by this GSMA report, are all about personal security and privacy. We know this is a load of crap, but we can all pretend that the mobile operators really are acting in our own best interests… They are a long way from their mantra of, "an industry supporting and protecting citizens".

Top SMS spam categories: