Part of you wants to ignore it and hope it will go away. Zimbabwe is such a messed up place that it hurts to even think about it. In the midst of it all, one group is making sure that actions and events are being documented: Sokwanele.

It's amazing how simple visuals can take a bunch of data and make it real. Above is a chart showing the mayhem, broken down by type. It's a sick story, but one that can be told in almost real-time because of our current technology.
This is why mapping and other visualizations are so important. Sokwanele is simply collecting the news reports then archiving and parsing them for information. When those stories come in ones and twos throughout the week, it's easier to ignore. When they're put forward as a body of evidence using visuals to show their aggregate statistics, it becomes damning and impossible to ignore.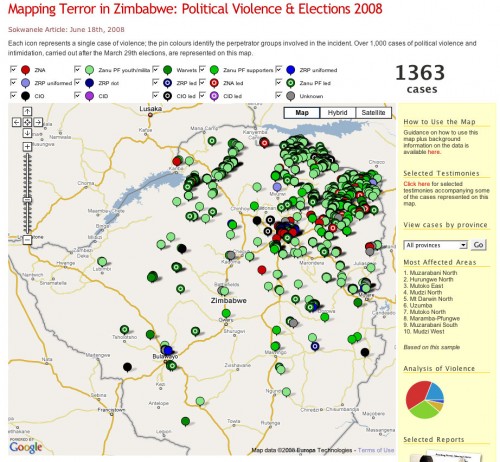 That's a busy map above. In fact, so busy that you'll be surprised to know that it's just the violence that has been perpetrated since the elections at the end of March. Anyone remember the "old" map, from way back then, 3 months ago? I do, and have the screenshot below: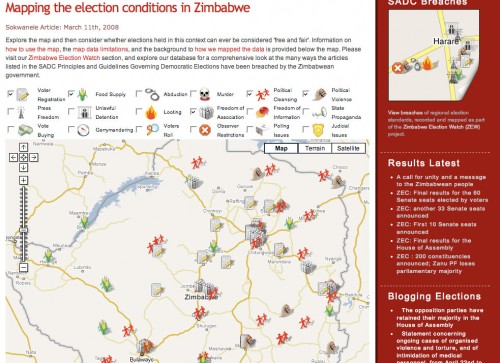 By the way, both of those maps only show a small sample of what is being done. Not everything is reported to news organizations or directly to Sokwanele.
Some people might ask, "But, does Sokwanele's map help at all?" I'm guessing that it doesn't directly. However, what it does do is proved fodder for organizations inside and out to make an even stronger case against this repressive regime.
[Note: if you can handle graphically violent images, check out Sokwanele's Flickr stream.]
On a Personal Note
Those of us on the Ushahidi team think on this stuff a lot. We're not off trying to win mashup competitions and raise funding for further development because we think it's a fun startup idea. No, we're doing this because it matters and we believe our tool will help raise awareness and empower organizations to understand and activate against wrongs.
If anything, I'm compelled more than ever to figure out how technology can continue to create change in truly screwed up places.