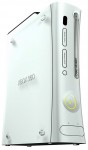 Back to funny and meaningless drivel. I came across this hilarious article that was in the New York Post concerning the upcoming Xbox 360 (which is releasing on November 22). An exerpt:
The Core pack has been called the "'tard" pack, as in that's what your mom is if she buys you this for Christmas.
Really, that's just funny. Anyway, you really are retarded if you buy the $299 version instead of the $399 version – it just doesn't make sense. You'll easily end up paying $150-200 more getting the additional accessories at a later date, just bite the bullet and buy it all at once.