I used to hate Macs. It's true, I thought they were made in hell and sold by Satan. Chance employment with an interactive marketing agency brought me into forced contact with them a couple years back and I've grudgingly given ground to a very well designed product.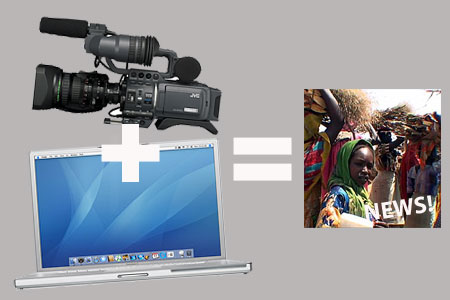 As I was browsing the Mac store this evening, I came across an interesting story – one that melds my two worlds perfectly: Africa and technology. A board member from Save the Children recently took a trip to Darfur, Sudan. He meant to travel light and capture quality HD footage of what was happening there. He took a 17″ Powerbook, a couple HD video cameras, and extra hard drives. (You can read his story here)
"All my future projects will be shot in high-definition. My real interest in this was always to go into those really hard-hit places like Congo, Darfur and Iraq, where the stories don't get told, and have a way to tell them. Now with accessible HD cameras and Final Cut Pro HD I can do that with the same precision, the same visual style, the same standards as a very high-end studio production. It's a real equalizer."
You've just got to love this. What an incredible time we live in where with a small investment (relatively), we can impact our world – make news and stories from far-flung places like Darfur available to the whole world.
Democritization of media is changing our world. Many of us haven't realized the power we now wield, in truth, the old guard is shaking in their boots. Media dollars are leaving to go to the web, and the web is fragmenting monopolies of voice and thought.
If you doubt that individuals are getting their news out to the world, please take a look at these outlets:

YouTube
Revver
VlogMap (vlog = video logs)
VlogDir
MeFeedia
And there are more that I'm sure some kind readers can point out.