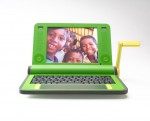 Not exactly new news, but something that I did want to update everyone on. The $100 computer project that MIT has been working on for the last couple years has now been rolled out. It's a bright green (I'm not sure why they chose that color) bit of useful hardware, built for everyday use by kids in third-world countries.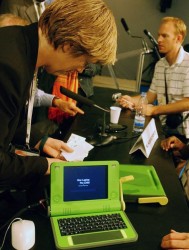 Negroponte, the whiz behind MIT's Media Lab, recently unveiled at the UN's World Summit on the Information Society (WSIS). Big names in technology are interested: Bill Gates, Michael Dell and Steve Jobs just to name a few. Companies like Google and AMD have provided some financial backing, and governments around the world are starting to place orders. Overall, he's done a masterful job of creating buzz within this high-profile group of mega millionnaires and heads of state, which might be all that's needed to provide enough cash flow for this project to take off.
What I think is great, is that Negroponte is discussing the idea of making a model to sell to the public. It would retail at around $150, and would help subsidize the non-profit model. Again a masterful stroke to gain awareness and dollars. I know I will buy one, if for nothing more than testing. Think of how many others might buy enough for a village, town or school all on their own.
What's in the package?
… the tiny laptop will be a stripped-down affair, usable for basic word-processing, Internet, and e-mail. It has no hard drive, instead using flash memory like that in a digital camera. The processor, from AMD, runs at a pokey 500 megahertz. Though spartan, the design is also ingenious: Each laptop will include a Wi-Fi radio transmitter designed to knit machines into a wireless "mesh" so they can share a Net connection, passing it from one computer to the next. Though the laptop has a power cord, that cool little crank can also provide roughly ten minutes of juice for each minute of turning. (from Fortune Magazine)