Macworld, Steve Jobs private little time to unveil his newest Apple products and prove his peers at Google, Microsoft and Yahoo to be novices in comparison when giving a presentation and releasing new products to the world. He truly is the best at it, and his legions of fans prove it out. (watch the video here)
How popular is it? Let's take a gander at what's hot in the blogosphere today by looking at Technorati's "top searches this hour".



The first 3, and 4 out of 10 overall, pretty impressive
What did we get from this Macworld?
A new iMac – pretty cool.
A new version of iLife – not bad.
A new version of iWork – VERY cool (more on this later)
A new MacBook laptop – Wow, this is sweet!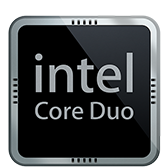 What Apple really did right here is the MacBook. People were chomping at the bit for the new Intel Core Duo powered computers – Macs have lacked the pure processing power that their PC counterparts have had for years. Most people didn't think that Apple would have their top level laptops redone with the new chips in time, thinking that they would have to wait until the summer for them. Underpromising and overdelivering – there's just a huge wave of excitement over this product. The $2000+ ticket price will not stop this from being a very high selling product.

I actually used to hate Macs. That was up until about a year ago when their software started to become useful. Now, it's one of the reasons that I really like using them. The thing that got me most excited about this release was iWork's Keynote 3 (Apple's version of Powerpoint). I design quite a few presentations and have always thought that Keynote looked much better than Powerpoint. Up until Keynote 2 it wasn't as powerful – you just couldn't do as much as you could with Powerpoint. After reviewing what's available online, I think we've finally reached a point where Keynote 3 is just an overall better product in every way than Powerpoint. Very exciting times indeed if you're a Mac owner.