The only other event that I've attended that brings as many high profile and high net worth individuals together besides the GPF is TED. What's wonderful about both events is how open everyone you meet is to discussing new ideas, no matter if they're (literally) a rockstar or not.
Unfortunately for me, I woke up to only about 20% voice usability. I could barely talk. After drinking gallons of hot water, with lemon and honey, I was able to croak well enough for my panel session on early warning systems.
Sitting on the panel listening to my fellow panelists was actually one of the best parts. Jan Chipchase of Nokia, who writes the wonderful Future Perfect blog, had some incredibly good thoughts on mobile phones and their real-world usage. In honor of how he takes photos of random things he sees around the world, I've added the image below of his Moleskin notebook.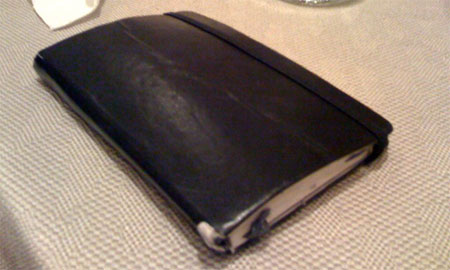 One of the great examples he brought up was the how people were being incentivized to take their medications in some developing nations. They were given a piece of paper that when urinated on would show a specific code that needed to be SMS'd in to the health clinic. If it was right, that person would receive top-up minutes for their phone. Just brilliant.
The other panelist was Mark Smolinski, Director of the Predict and Prevent Initiative at Google.org. Again, another class-act with more experience covering health-related crisis in his pinky finger than I have in my whole body. He covered some thoughts on getting "two steps to the left", thoughts on how hyper-early warning in epidemics can drastically reduce the impact of a pandemic. Fascinating and an infinitely difficult task to perform.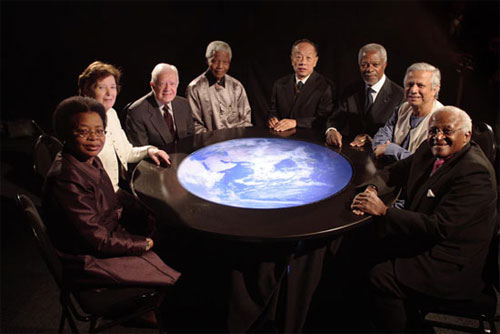 After the panel I was approached to take part in some digital strategy discussions with The Elders – a group of "retired" politicians and high-profile individuals who work to ease human suffering. A prime example of this was when Elders Kofi Annan and Graça Machel went to Kenya for 5 weeks to help resolve the post-election dispute. Needless to say, it was somewhat surreal sitting next to Peter Gabriel while talking with people like Mary Robinson.
Before the night was over, we were treated to a talk about doing something around the HIV/AIDS "genocide" in Africa, and a few songs by Annie Lennox. Her new campaign on AIDS in Africa is called Sing.
We ended the night with a stage discussion with Richard Branson, where he talked about being one of the founders of The Elders and how he uses his business success for global good. He made some polarizing statements about Mbeki and Zuma in South Africa, followed by some thoughts on letting Mugabe walk away in Zimbabwe. In the question and answer session he was called to task by some of the audience.
What I wanted to ask him, but didn't have the voice for, was his thoughts what he likes to call crisis "war rooms". He has big ideas on these for both epidemic crisis in Africa and the climate crisis globally. What I wanted to know was why he doesn't throw a third one in to his collection – a crisis "war room" for human rights and mass atrocities so we're more prepared for events like Kenya and Zimbabwe.
I'm praying that I get my voice back by tomorrow.