We're at the NetSquared conference (day 2) still, where we'll learn the verdict of the voters on whether or not we win. So, cross your fingers! Here's an interview done of me (short). I actually was laughing at myself since it looks like I'm talking into a fish-eye lense.
Short interview at NetSquared of me. I'll add the one of David when it is posted.(video)
Ushahidi covered on the TED Blog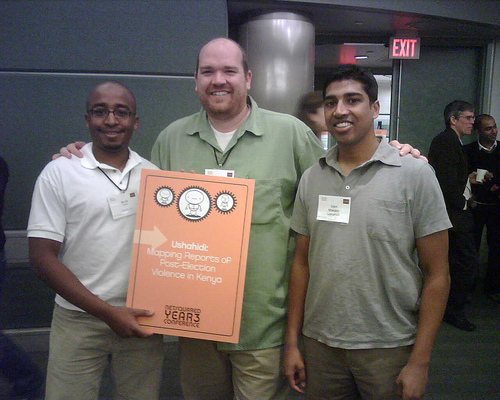 (image by Manny Hernandez founder of Tudiabetes
and Estudiabetes, two communities for people
touched by diabetes. On the right is Vam Makam, our new friend and local expert from Adobe.)
After the NetSquared event last night, David and I took off for the WordPress party where we met up with Matt Mullenweg, creator of WordPress.
Mobile Phone Posts
One of my favorite bloggers has written a piece on South African mobile banking options.
A write up by Katrin of Mobile Active on the "Say no to Xenophobia" campaign being run by Cell-Life in South Africa. I hope their campaign starts coordinating with the United for Africa campaign soon, it only makes sense.
Jan Chipchase on, "Understanding Non-Literacy as a Barrier to Mobile Phone Communication", part of a larger publication.