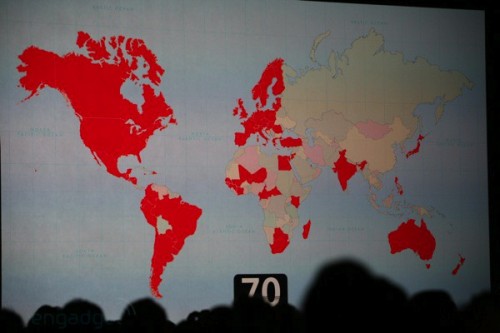 Above is the map of the, "iPhone conquest of the world" shown at Apple's WWDC keynote today. 15 African nations are getting in on the game now that is is 3G and more affordable. Honestly, I wonder how many of the local networks can handle the data load, but that's another conversation. Orange will be the carrier for Africa (as well as the Middle East and Europe).
The iPhone will be released in many countries on July 11th. However, the full index of countries, including all of the African nations (save South Africa), won't see the iPhone until later in the year.

The 15 countries are:
Botswana, Cameroon, Central African Republic, Egypt, Equatorial Guinea, Guinea, Guinea-Bissau, Ivory Coast, Kenya, Madagascar, Mali, Mauritius, Niger, Senegal, South Africa.
The iPhone in Africa. Really?
Many people will say that the iPhone will never be of any consequence in Africa. Possibly true. Outside of Egypt and South Africa, the number of people who can afford post-paid data plans are fairly limited. The second problem is the data networks themselves, many of them aren't ready for the stress that iPhone users will apply (as AT&T wasn't in the US).
I reserve judgment. Blackberry's, N95s and other smart phones can be made to work in Africa quite well. However, I don't think what we're seeing is "just another smart phone". It's a new operating system that changes the paradigm of the mobile phone/web. (I think Android is similar in many ways too – just more open).
What will happen is those who can afford the iPhone and the requisite post-paid plan will rush out and buy it. The data networks will become stronger to support it, and local developers will start building for apps (not to mention the secondary and tertiary applications and APIs that are needed).
Years from now, when the idea of the mobile web isn't so flashy and unknown in Africa, we'll look back and say our thanks to the iPhone as one of the catalysts that pushed development forward.
Gruber gets it right:
"The physical phone is not the story. A year from now, the iPhone 3G will be replaced by another new model. The platform is the story. Platforms have staying power, and, once entrenched, are very hard to displace."
[image courtesy of Engadget, and full notes from keynote. Full video on Apple.com]