Every once in a while, in this line of work, you get a genuinely welcome and unexpected surprise. That's what happened the other night when I met up with some local tech guys and a certain Steve Mutinda showed up just happening to mention that he did some J2ME programming. He has created two mobile phone apps (and working on a third), which I'll review over a couple of posts.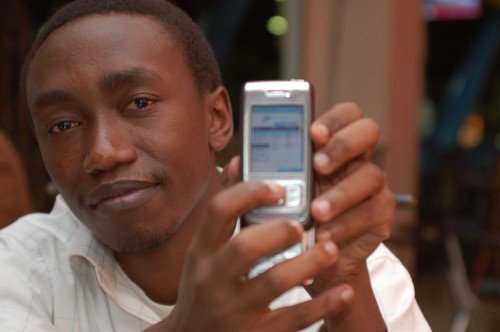 In brief, LiveQuotes let's you track the Nairobi Stock Exchange (NSE) from your GPRS enabled phone.
The NSE updates their data every time a trade happens, and that information can be downloaded as a CSV. Steve has it setup so that he checks it every minute, allowing you to have near real-time access to the exchange, and a scrolling ticker for your selected portfolio. Want to see how your stock has done over time? No problem, there is a basic line chart showing how your shares have done historically.
Steve started this about 3 months ago, soft-launching it to a few friends as he worked on new features and fixed things up. So far there are 200 users. I would expect that to change soon. 800,000 Kenyans have just bought into the Safaricom IPO was his inspiration, and a good one because it means there are hundreds of thousands of new stock owners in Kenya.
While it's fee right now, plans are to charge 30/= Kenya Shillings per week ($0.50 cents) per user. Anyone can receive the application through a simple SMS with a link to the URL, and then registering on the spot. Safaricom or Celtel (depending on which carrier the end user has) will act as middleman for transactions, paying Steve on a monthly basis.
A little math will tell you that by getting just 10,000 users he will make about 300,000/= per week ($4,665). $18,000/month is a nice salary by almost anyone's standards. I'll be asking for a loan from him soon, I hope.
What else is in the future? Uganda and Tanzania for one, possibly the rest of Africa if things go well. On the technology side, look for some type of API that will allow others to access the same pre-parsed information.
See it in action in the video below: