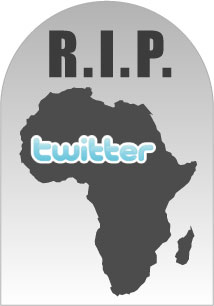 Biz Stone let the world know that Twitter's SMS service is no longer active in Africa – or anywhere outside of the US, Canada and India. To most people in Africa this means absolutely nothing, as the penetration rate for the service never moved beyond the few fringe users amongst the technology elite.
Why this is Important
I'm guessing that at least half of this blog's readers are wondering why they should even care about this news. After all, it sounds like some new trendy mobile/web app has failed to expand outside of North America – how is that news for Africa?
Twitter represents a change in communication. By acting as a global gateway for updates via SMS (or the web), that then updates all of your followers, Twitter succeeded in breaking ground in one-to-many messaging. There have been a couple times over the past year where Twitter was used in Africa to get news out that wasn't possible in any other format.
Two examples come to mind, specifically addressing humanitarian uses; first, there's the case of it being used in Egypt to help a jailed user, and second was when Juliana used it during the Kenyan post-election violence to update about events in Western Kenya in lieu of a blog post.
Soyapi wrote a post a couple months back talking about the potential for Twitter in Africa. In areas like Africa where mobile phone penetration far outstrips internet penetration, Twitter ends up being an incredibly good way to update friends, family – or in the case of businesses and government, the general public – about things that are happening.
"Realizing that a lot of people in the developing world have migrated from their home villages to cities both within and outside their countries and continents, they still need to some updates about the goings-on in their home towns."
What's Next?
In our globally connected world, if your service can't cover the globe, then you need to open it up for communication between similar services. What we really need is a platform that allows Twitter-like applications to "talk" to each other globally. If I set up a similar platform in West Africa then there should be a way for Twitter users in the US to also accept my updates. Closed gardens in this case create single points of failure. (I'm interested in the less restrictive Identi.ca platform.)
This global contraction by Twitter creates opportunities for others. Jaiku, recently purchased by Google, now has the ability to grow deeper into other regional markets. And, if nothing else, Twitter has done us all a favor by launching a global pilot project that proves out the usefulness of this type of service. Launching country- or region-specific clones of this same type of service is now a real option.