Most of June I spent in Kenya, much of that time talking to developers and getting ready for the next big Ushahidi push. During that time there was a new article about Ushahidi being one of the "Ten Startups to Watch" in the Technology Review, which was exciting for us to say the least!
July and August have been spent working hard on getting the application rebuilt, the site redesigned and creating partnerships with other organizations. September is about launching the NEW Ushahidi.
A New Website
Now we're off and running with a new website design, live today, that shows how our goals and focus have changed since things blew up in Kenya. (get a new Ushahidi button for your site.)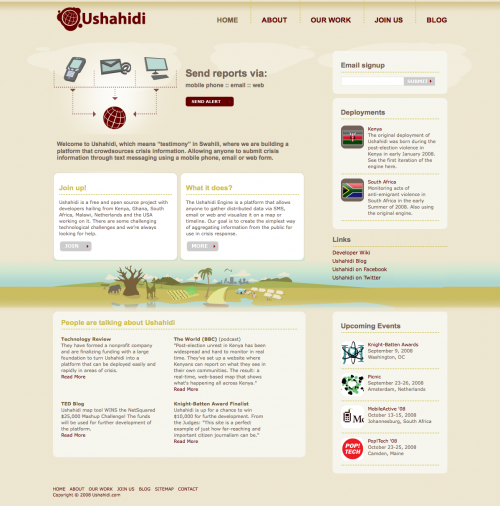 Funding
I'm very happy to announce that we've secured more than the $25,000 prize money from NetSquared (which has allowed us to do so much already). We have also just secured a grant of $200,000 from Humanity United!

Humanity United is an independent grantmaking organization committed to building a world where modern-day slavery and mass atrocities are no longer possible. They support efforts that empower affected communities and address the root causes of conflict and modern-day slavery to build lasting peace.
There is an obvious fit between Humanity United and Ushahidi, after all, we were founded on the same beliefs back in January in Kenya. Though we're creating the Ushahidi engine as an open source project, our goal remains to see it used to better understand, give warning of, and recover from mass atrocities.
The Vision
Ushahidi is moving from being a one-time mashup covering the post-election violence in Kenya to something bigger. We are setting out to create an engine that will allow anyone to do what we did. A free and open source tool that will help in the crowdsourcing of information – with our personal focus on crisis and early warning information.
We see this tool being used in two ways:
First, to crowdsource crisis information by creating an online space that allows "everyday" people all over the world to report what they see during a crisis situation, and whose reports are generally overlooked or under reported by most media and governments.
Second, make that software engine free and available to the world, so that others can benefit from a tool that allows distributed data gathering and data visualizations.
We're aiming to release an alpha version of it in just a few weeks for internal testing, and for alpha testing with pre-screened pilot organizations.
Volunteer Devs, Designers and Others
One of the reasons Ory and I were in Kenya was to talk to developers about helping with Ushahidi. We were overwhelmed with the amount of interest and the quality of the people who stepped up. So far we have a team working on mobile phones, a designers group, and a number of PHP experts. Go ahead and take a look at the development wiki as well.
If you'd like to play a part, get in touch and we'll see where you can best fit in. You don't have to be a developer or designer either.
[Credits: Richard "Ochie" Flores for the excellent design, Kwame Nyong'o for the beautiful illustrations, and Ivan Bernat for the spotless HTML/CSS markup.)