My good friend Josiah Mugambi in Nairobi was at the Kenya chapter of the Institute of Electrical and Electronic Engineers (IEEE) exhibition in Nairobi last weekend. This is where students showcase their innovation in engineering, ICT, mobile application and renewable energy. He did me a great favor by sharing some pictures and research that he did on some of the really interesting students he came across.
1. MPESA Online Shopping
By Denis Ndwiga Nyaga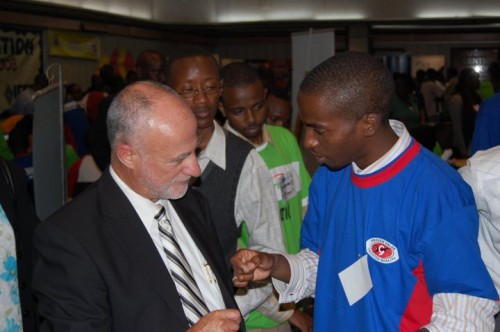 Safaricom CEO Michael Joseph was especially interested in this one for obvious reasons. Denis called it 'nakupesi', Naku for Nakumatt (the local mega-store). nakupesi is an online shopping mall, with payment based on MPESA. One would need to be registered on MPESA to be able to pay for items online via MPESA. One thing that is possibly lacking is delivery to one's residence or office after purchase. This shouldn't be too hard to incorporate though.
2. Green Tree Markets – a Business Intelligence tool for farmers
By Andrew Owuor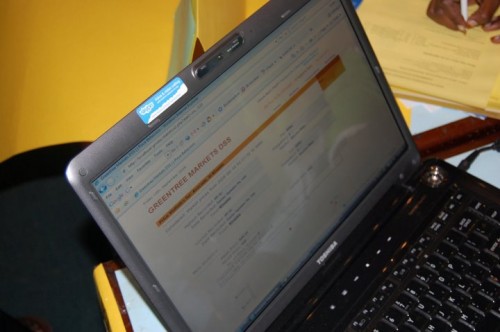 This looked quite interesting – A business intelligence tool that allows a farmer to choose where to sell his produce based on price, and location. Some of the obstacles that the developer Andrew Owuor mentioned include the need for real time market data from markets round the country, for the system to be of use. This isn't a completely new idea, but it'll be interesting to see what local twists are created for East Africa.
3 more…
3. Automatic headlight dimming for two approaching vehicles – By Jemimah Wachenje
Jemimah has developed a system that automatically dips two vehicles head lights when approaching each other at night. Josiah has ranted about headlights before, and I agree, it would be very useful and potential could reduce some accidents on those dark lightless roads around Kenya.
4. Energy harvesting using piezos to charge mobile phones – by Richard Assanga Otolo and Gilbert Barasa
Very interesting, yet practical.
5. Synchronous Solar Heliostat – by Samuel Njoroge
Sammy Njoroge's demostration of a synchronous solar heliostat used to track the sun, and orient a solar panel accordingly thus improving the efficiency of solar panels. Automatic tracking of the sun to increase the efficiency of solar panels, Makes economic sense. Innovation runs in the family it seems.