Today finds me off in Bopola, a town well off the beaten track North of Monrovia, Liberia – where I've taken a lot of pictures and had a good time getting out of the city. I hitched a ride with an American NGO taking breeding rabbits upcountry, so the back of the pickup truck had 80 furry big-ears in it. It smelled some, since they had picked them up in Guinea 2 days before.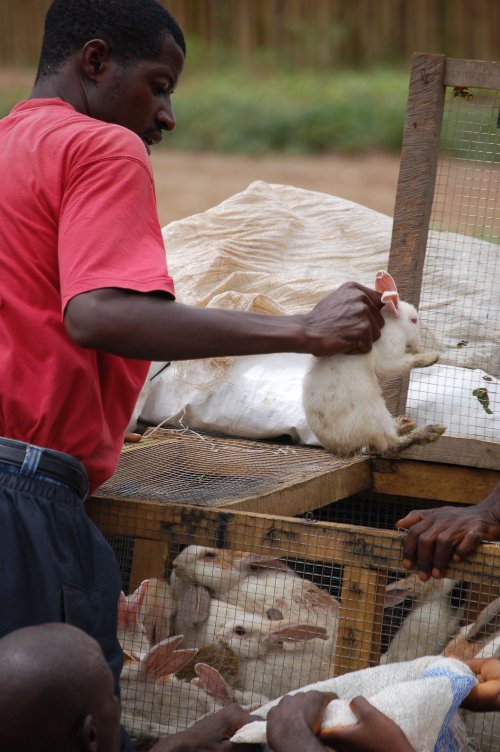 I saw this fascinating creation called a BUV on their station before I left too. 3 wheels, and it looks like it can haul anything.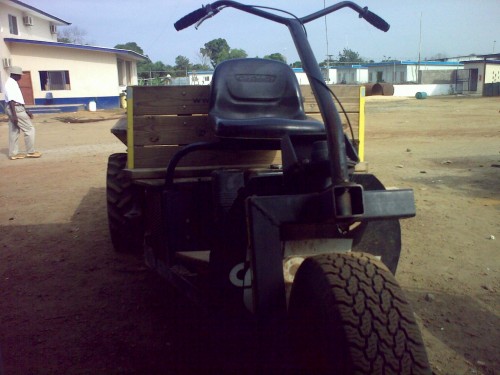 The ride was just what I was looking for; providing me a chance to get out and see how the country really breathes and moves. The outskirts of Monrovia are hectic, as you would expect, but as soon as you get out it slows waaaay down.
Radio Gbarpola
One of my main missions while out is to talk to some rural community radio managers. When we got in, I made contact with the owner/manager of Radio Gbarpola and we had a good 2-hour discussion on their technology, programming, practices and business growth possibilities.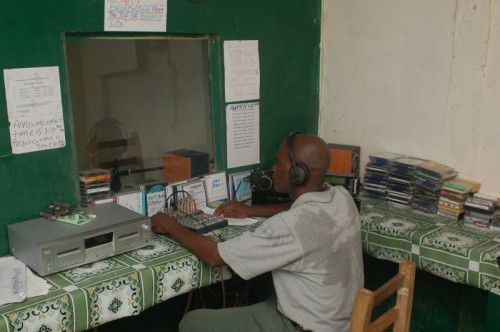 International Alert has pumped a decent amount of money into a number of strategically located community radio facilities. Radio Gbarpola is one of them, and boasts a bank of solar powered batteries, a 300 watt transmitter, a split studio, a 2-deck CD and tape player, and a motorcycle (for the news reporter to visit locations on). That's some spread!
As I had expected, this radio station is one of the only ways anyone in much of the county can find out what is going on within the county. They currently cover 2/3 of it, and with a repaired or new antenna, they can reach all of it. The only mobile phone antennas are owned by Lonestar, and it doesn't have nearly the reach of the radio station.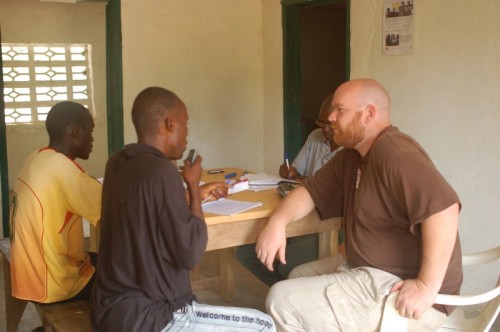 While there, they insisted on a quick interview as well – I hope the Liberians in Gbarpola county can understand my American English… 🙂
New technology injection
Being myself, after exhausting my question supply, I started demo'ing what you could do with just a SIM card, mobile phone, and a computer. The first thing out was a quick test of FrontlineSMS there, which worked like a charm. I explained how a setup like that could add a new revenue stream as well, if they started selling text ads.
Then, I went on to talk about what we did in Kenya with Ushahidi, and ask about what they thought of similar technology in Liberia. Interestingly enough, it turns out that all "important" information seems to filter into the radio quickly. It's either direct to, or direct to police-to-radio.
That that has started me thinking about is using the 50+ community radio stations in Liberia as nodes in a larger network. I'm thinking it might be possible to set up a number of them with a FrontlineSMS system that uses Mesh4x to sync certain information between them and up to Headquarters in Monrovia. Just an idea at this point, but well worth doing more discovery on.
[Note: How did I manage to post way out in the middle of nowhere? Aforementioned NGO has a nice slow connection, and I have all night to upload these resized images…]