For 15% of the cost of a normal 160 character SMS message in Kenya you can now send one with 1000 characters in it.

Sembuse is a mobile social network. It's a way for East Africans to connect with each other via short messaging, cheaper than normal SMS messages (much like it's counterpart Mxit in South Africa). It's a new release by Symbiotic, a Kenyan firm that specializes in making mobile phone related applications. To get the application on your phone, point your device to to m.sembuse.com (or s.zunguka.com). It's a free download for anyone with a GPRS or 3G enabled phone, and you can try it out immediately.
Making Money
Mbugua Njihia is an entrepreneur, I've known him for a little while, and he's focused on running profitable enterprises. There are two revenue streams at Sembuse.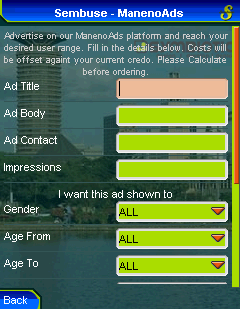 1. Value added services:
"Customized news alerts, real time stock market alerts and news, rave crave – that gives users a snapshot of the nightlife in their location, the gossip channel – that allows users to submit and share gossip with their friends, the sports bar – where sports fans can keep up to date with the happenings in their favorite sports and a video section with mobisodes across a variety of channels."
2. Advertising
There is a proprietary hyper-targeting advertising platform – SembuseConnect that allows businesses to connect with their target market directly on their handset. They can book their ManenoAds (text adverts) and choose their desired target group on the Sembuse network from the ease and comfort of their mobile phone wherever they are. The advertisements are served immediately the order is confirmed.
I asked Mbugua about the advertising, and he got back to me with the following statement:
"Going into launch we have two advertisers on board on trials – Standard Investment Bank and Royal Media Services. For the larger FMCG's and cooperates the approach is to use their ad agencies to book and manage the medium for themselves and the rate cards have already been dispatched. This however doesn't prevent us from having a direct engagement with clients. The biggest source we hope will be individuals and small to medium sized enterprises who can place their own adverts through their mobile phones."
In Summary
I'm really interested in seeing where this goes. The guys behind it are ambitious, and they're doing something that I've thought for a long time needed to be done. I'm particularly glad to see that they've taken a two-pronged revenue approach. Relying on advertising alone in this economic environment wouldn't be that promising, but by tapping into the end-user as well, there is added potential.
Finally, I wonder if we'll see more people moving from their older SMS-only phones, with no data capability, to GPRS enabled phones. I know we saw this happen in the case of Mxit in South Africa, so I wonder if the same will be the case in East Africa.
Screenshots