Though I've been busy running around getting ready for this Maker Faire Africa event, I've also had some nice chats with the a few of the programmers and designers in Accra. I know there are still a lot that I haven't met, but this has been a good start.
I'll start out by saying this: one of the most disappointing things that I've come across here is the lack of community within the tech scene. There is no mailing list, forum, or other digital touch-point for the devs to keep in touch with each other and discuss pertinent local issues. I know just how valuable this is due to my involvement with the Skunkworks tech community in Nairobi.
Offsetting that is the fact that they do have places like Busy Internet and AITI, two facilities that are well-known for supporting the tech community, that act as nexus points for tech meetups and user groups. There are also a number of good tech outfits with quality programmers.
First impressions leave me excited about the talent, but surprised at the lack of connectivity within the community.
Ushahidi meetup
Tonight we had an Ushahidi meetup night in Accra over at the Suuch Solutions office. It's a great location, butting up to a hotel with nice seating for a get together like ours. We had a couple devs from BusyLab (which I'll write a full post on soon), a couple from Succh, as well as Henry Addo from our team.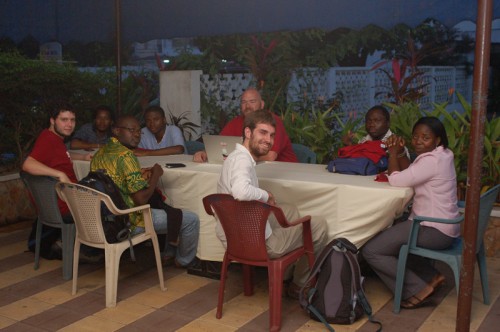 It looks like we have a couple new guys to help out on some interesting parts of the platform. George is an HTML markup guy who is itching to get his hands into some design work, and Chinedu is going to dig into the API with Henry.
The BugLabs Device
We also had a chance to break out the Bug kit from BugLabs, a completely modular hardware device that can be programmed using Java. I'm not sure who will be having the first crack at it, but everyone was amazed with it. What geek doesn't like this type of stuff? I mean, accelerometer, GPS, camera, LCD, WiFi and control unit. It's just such a crazy-cool device.