I'm here at day 2 of Africa Gathering in Nairobi, but can only spend part of the day here today, so it won't be a full listing of all the talks. Day 1 talks are here.
I missed Nkeiru Joe's talk about the sea and fibre cables. However, I've known and debated this with her for a long time. 🙂 Here's her presentation on this topic, but to get the flavor on it you should talk to her or hear her speak.
Nkeiru Joes Africa Gathering Presentation – 2009
Digital Integration (lifestyle and webstyle)
David Nahinga, one of the organizers for Africa Gathering. He's taking a few minutes to talk about the difference between digital culture and everyone else. How we need to use our time effectively, not try to be on 20 social networks and to prioritize the tools and platforms that we use that help us reach our goals.
It's interesting, David is really doing a primer on why social media and digital tools are useful, and a reminder to use the "hard disk as another lobe of our brain." Having a tight digital framework helps us to adapt quickly to a constant change, which is a characteristic of web lifestyle.
GotIssuez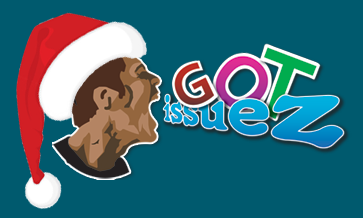 Mark Kaigwa is here to talk about his startup project called GotIssuez, which I've blogged about before. They are creating a digital means for Kenyans to talk about customer service issues – by mobile phone and the web. It's an African social platform that crowdsources rants and resolutions from Eastern Africans on Products, Brands and Service Delivery. Users rant, rate and resolve issues, and where companies can get involved is in acting on the feedback.
Mark asks, "Do we as Africans have a problem with really listening?"
He draws lines from everyday customer service by businesses in Kenya, with the way that politicians operate, how police try to direct traffic and to the post-election violence last year.
"If the ballot box can't bring me change, why should a suggestion box?"
The suggestion box is dead, or at the least it's in need of a revamp. That's why tools like GotIssuez, which is similar to Get Satisfaction in ideology, are important.
4 things that GotIssuez is doing to create change in the customer service space in Africa. (How do you get an African to believe in change?)
1. Creating community
Their community is made of people from Generation Y, with a very strong presence in universities. They're the ones who will have a large voice in the future of Kenya. Providing a digital way to complain, but also a way to come up with solutions.
They're using gifts and prizes as an incentive to get more people to use the platform.
2. Evolve Culture
In the beginning, the users who came to the site were there complaining about non-issue type items, like why they couldn't get a date for valentines. Now however, the complaints are about mobile phone operators, ISPs, restaurants and things that others are having problems with as well.
3. Involve Companies
How do companies get feedback? How do they engage with customers online and offline? GotIssuez is trying to become the official voice of the people by providing a platform that both consumers and companies can use.
4. Change Circumstances
Actually create change by involving both ordinary people and companies. The example he used here was a popular coffee shop called Savannah that only has one bathroom. People weren't happy about this and created a GotIssuez report on it. The managing director of Savannah was directed towards this and came up with a solution (finding nearby restrooms that people could use).
Mobile Cloud Computing
Simeon Oriko is a 3rd year student at University of Eastern Africa Beraton and he's here to talk about mobile phones and cloud computing, and where the two meet. Mobile Cloud Computing is a combination of two major emerging technologies: Mobile computing and Cloud Computing. Both these technologies are increasingly growing at a high rate. The concept of Mobile Cloud Computing involves the integration of mobile phones and the internet (the 'cloud') to create a cheaper, more convenient way of accessing information and other resources on the internet.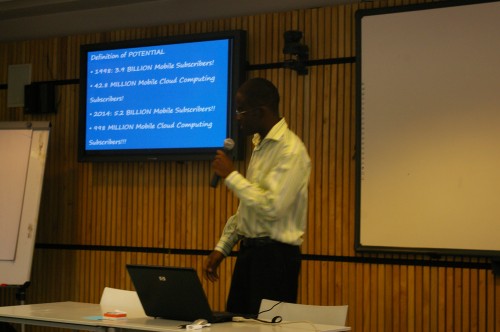 "How do we give people access to information and other resources that allow them to be all that they can be?"
Simeon was driven to think about this knowledge gap as he went to different high schools and talked to students who wanted to learn about things, but couldn't, which was holding them back from different professions and futures. The example he gives is of a young lady who wanted to be a pilot, but had no idea where to start.
The Mobile Web
Mobile phones are not the same as desktop computers, but people create sites and applications that don't allow true access via the mobile phone. We have this hugely fractured space, with browsers, phones, operating systems that are so different that it's impossible to operate in them.
4 problems:
Limited memory and storage – Various data formats are used and it depends on the device as to how powerful it is. Data storage is expensive. There are major interoperability issues between phones, so a different application needs to be created for each device.
Small display screens – Desktop version websites are optimized for 1024×768 pixels – and there's no good solution for that on a mobile phone. Technical solutions exist using CSS and javascript… if your phone renders them
Flaky browsers – There are MANY mobile browsers (Android, Safari, Opera, s60, Opera Mini, Blackberry, NetFront, IE Mobile (old), Iris, Bolt, Skyfire, Obigo, Fennec, Teashark, etc…). They all vary in standards and modes of rendering
Bad Connections – Connectivity is spotty outside urban areas.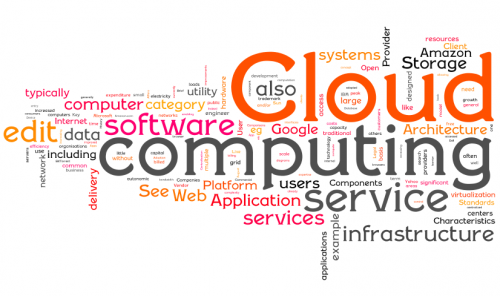 Solutions
Take processing away from the mobile phone and into the cloud – put it on the internet. For instance, if you want to upload a picture, you should be able to expand the storage space online from that which you have on your phone/memory stick.
Create a common platform that all the mobile phones try to share in common. Examples are the mobile web, SMS and USSD.
What will mobile cloud computing look like?
"Smartphones will increase in percentage, but that will not be the future. Feature phones will become more sophisticated, as more of the processing is taken away from the device and put in the cloud. Lower end phones will be the driving force, using SMS and USSD, even if they don't have the mobile web."
Applications will be of two types:
Native apps will still be there (Android, iPhone, WinMo, etc.)
Web apps will be used a lot more.
Faster mobile networks and improved network connectivity.
Simeon is working on Kuyu, a mobile web application that allows African devs to build African apps for real world African solutions.