Last Wednesday started out pretty normal for me. Then it stopped. The US-based members of the Ushahidi team informed me of the earthquake in Haiti, and then the madness began… 6 days later, what's happened?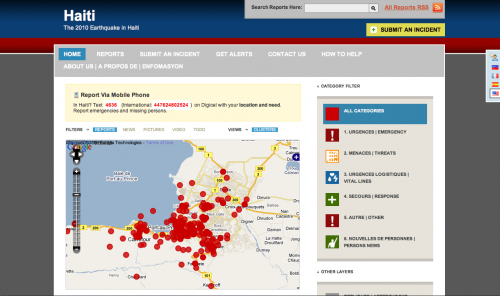 Ushahidi is heavily involved in mapping and integrating crowdsourced information from Haiti into an aggregated map that is being used by both people on the ground who need help and those who can provide relief. Teams of volunteers in Kenya, Uganda and the US have been working to solidify the platform and make this effort work. Keep up-to-date in our Situation Room and our blog.
Though it's not a completely accurate description of what we're doing, it's close: We're running what's basically the 911 system for Haiti through a local shortcode on the Digicel network 4636. More on the 4636 number and campaign.
How you can help
Pass this message on, try to get it to people, media and organizations IN Haiti:
"In Haiti? Text 4636 (International:447624802524) on Digicel with your location and need. Report emergencies and missing persons."
Help with open mapping of Haiti campaign through OpenStreetMap, CrisisMapping Network and CrisisCommons via the "Drawing Together" campaign.
Other links you should know about
Missing persons index
In-Haiti relief organization registry
Twitter Tracker/Filter
Crowdsourced facial recognition
OpenStreetMap Haiti
Crisis Commons Haiti
ICT4Peace – useful links wiki
It turns out this little experiment that started two years ago to crowdsource information from the public in Kenya during the post-election violence might have a future after all… 🙂
Thanks for your support, and for your help.