We're just a month away from one of my favorite events of the year: Maker Faire Africa! It's where we bring inventors, innovators and ingenious designers and artists into one place. Last year we did it in Ghana, this year it's in Kenya on August the 27th to 28th. Submit your project here!

"The aim of a Maker Faire-like event is to create a space on the continent where Afrigadget-type innovations, inventions and initiatives can be sought, identified, brought to life, supported, amplified and propagated."
The aim is to identify, spur and support local innovation. At the same time, Maker Faire Africa would seek to imbue creative types in science and technology with an appreciation of fabrication and by default manufacturing. The long-term interest here is to cultivate an endogenous manufacturing base that supplies innovative products in response to market needs.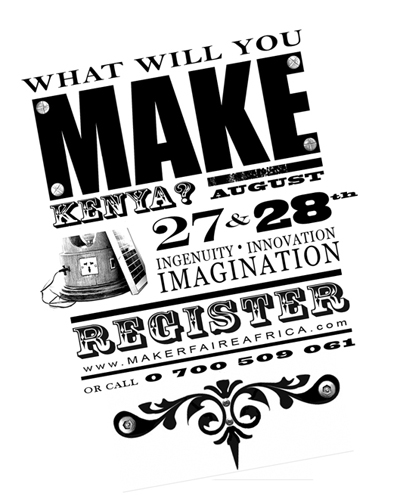 Projects, Sponsors and Links
'Match a Maker' was started last year, and it was such a big success that we're doing it again this year. It's done in order to link people up who could help each other with technical advice, contacts and business advice.
There will be a business corner for entrepreneurs to get help from local experts, a time devoted to kids experimenting with technology, and talks by local and international experts on everything from manufacturing to scaling your business.
Workshops
'Think Solar' : Solar technology for young people
'Crafting peace' : Hand crafts for children
'Hack your mobile' all ages
A BIG thanks to Freedom to Create, Butterflyworks and ASME for sponsoring this year's event!
Keep up to date on the Maker Faire Africa:
Blog
Twitter: @makerfairafrica
Flickr Group