Safaricom is Kenya's largest mobile operator with approximately 80% of the market. Most people don't know this, but they get hundreds of business and technology proposals each week from people all over the country – techies and non-techies alike. It was with this problem in hand that they decided to open up an "Innovation Forum" for Kenyans to share their ideas.
In short, it was a disaster. Draconian legal terms and conditions mixed with ham-handed community engagement meant that they met with a lot of resistance and outright mockery on public channels such as Twitter and Facebook. Just a sample from one blogger:

Engaging the Community
Safaricom is now back to the drawing board. Their problem hasn't gone away, they're still overwhelmed with emails, letters and proposals for business ideas that might/might not make sense for them to engage on. Wadzanai Chiota-Madziva heads up their VAS (value added services) department, and is in charge of this. After the noise caused by the less-than-stellar launch of the Innovation Forum, she and CEO Michael Joseph met with one of the techies who was very concerned about the way they were handling this: Al Kags.
Al Kags has sat down in a couple of meetings with them thus far, finally he suggested a board that could serve as a buffer between Safaricom and the people sending in proposals. The Innovation Forum Board's job would be to speak for the community to Safaricom, as well as push for better access to APIs, a developer sandbox and possibly and app store. They would also be responsible for helping to translate Safaricom's position to the community.
I was invited, along with some other's from the tech community, to sit down and discuss this with them last week. It was a fruitful discussion about the possibilities and the roles and responsibilities that the board would have.
Some of the discussion was about the need for a buffer to be created between Safaricom and submissions to foster fairness and openness, to provide confidence to developers to innovate without fears of intellectual property (IP) misappropriation.
"The intention is for the board to create a fair environment for innovatioin by playing the middle ground between Safaricom Ltd and the developer and innovator community"
The position is largely one of an enabler. The board would oversee the Innovation Forum by:
Create and agree rules of engagement with all parties
Advocate developers perspectives at Safaricom
Facilitate understanding of Safaricom position with the developer/innovator community.
Figuring out the Board
The people invited for the meeting, as the potential board, were Moses Kemibaro, Jessica Colaco, Al Kags, Karanja Macharia, Rehema Parmena and myself.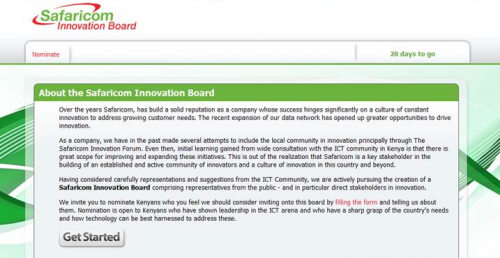 While it is up to Safaricom to decide who is on their Innovation Forum Board, those of us at the meeting pushed back a little on how they had done this. If they want to interact with the community, it might behoove them to reach out to that community for some of the nominations.
They listened, and starting today going through the end of the week, you can make your own nominations for the Innovation Forum Board for Safaricom to review on the website. This is your chance to put a name in of someone that you think would represent the community well on the board.