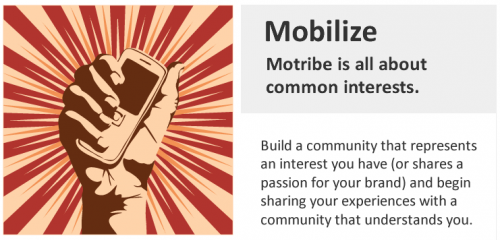 The Mobile Web is the future of mobile apps, and it's not surprising to see Vincent Maher and Nic Haralambous, from South Africa, on the front end of it. Motribe is a simple community building platform for the mobile web. You can easily get a site up and going in an hour that allows chat, photo sharing, private messaging and mobile blogs.
That bit about the mobile web is important, since it means you can browse to it on most phones, and you don't need a special app for it built on all the smartphone platforms, like iPhone, Android, Ovi, WinMo and Bada – as in, there's one less barrier to entry.
I asked Vincent why he chose mobile web, his response:
"Mobile is the killer internet platform for Africa, but also the rest of the world. We have found that our younger users prefer using an ipod touch to surf the web than a PC. Motribe works on 4000 devices (or more) and the Motribe plan is to change the way people use social networks in emerging markets."
Initial funding was raised 4DI Capital, and they've got a clear business strategy, which is to sell their product. Pricing ranges from $10 to $50, and each level gives you a greater ability to customize and "own" the mobile social network that you've built. There is also an enterprise level available for bigger brands and companies. Motribe also has a free plan with core features and a 100-user limit for you to get started quickly.
Its built on Amazon EC2, S3, RDS and Cloudfront using PHP, Codeigniter, Google Charts, JQuery and Cassandra. Vincent stated that, "Cassandra is the most interesting of the components because its going to be the key to scaling to millions of users."
Giving it a Test Run

I went ahead and signed up to give Motribe a whirl. My test site is AfriGadget.Motribe.mobi, where I'll put up some stuff from AfriGadget and see if a community grows around it. Just getting going, I can see that a lot of attention has been put behind this platform (as would be expected with veterans like Vincent and Nic).
Some notes:
Signup: done easily, nice little touch to provide a QR code directing to a URL for login.
Setting up a community: simple, see image below.
Access code: for when you want only certain people to join
Test mode: for making sure your community is setup right before it goes live
Themes: many simplified stock themes available out of the box.
QR code generator: there's a neat QR code generated for the URL of your new site. (Would be nice to have this as an embed code for websites)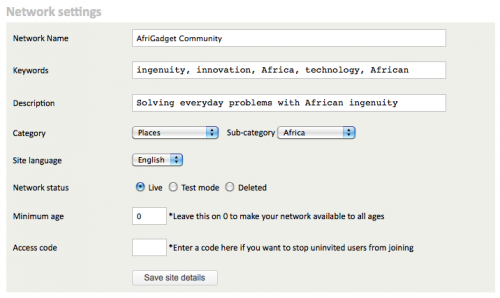 There are a couple example sites already going – emofwendz.com is the one they ran for the pilot, and it has some fantastic engagement stats, like an average of over 100 pages viewed per visit (the norm for web sites is about 5) and average visit lengths of around 60 minutes. Today, Vincent said, an Afrikaans-language site was created for Christians http://ekerk.motribe.mobi, its a good example of exactly what they people to do with the platform.
Some Thoughts
If there's any platform that's come out of Africa in the last year that fills a global need, it's Motribe. I won't be surprised to see this go big at all.
There are always teething pains, experimentation and adjustments when a new platform goes live. I found a few issues, like when I went to upload my logos they threw a bug (I was a pixel off on the size, thus the issue). Not unexpected in a brand new platform, and I'm sure it'll be fixed shortly.
I wasn't able to test out the "Custom URL" and "Advertising Manager" features, though I would like to see how each is implemented. It might be worth having a section on the website to preview at least the Advertising Manager in more detail to see if it's worth upgrading to.
There isn't any SMS functionality yet, and I'm not sure there needs to be either. As Vincent said, "we don't have a need for SMS right now but we may well integrate SMS at a later stage depending on whether we can find some good uses for it."
Worth reading: other posts by TechCentral and the Daily Maverick.