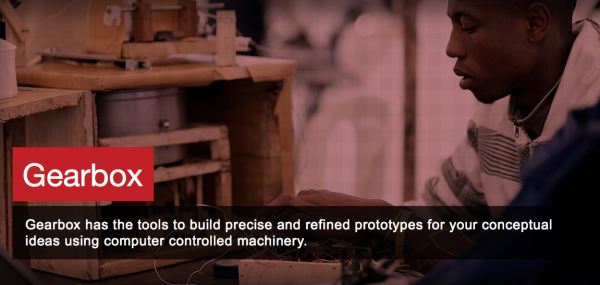 Perhaps one of the longest projects to come to fruition for me has been Gearbox. Over three years ago, a couple of us started talking about the need for a makerspace in Nairobi, which turned up a notch to something more like a rapid protoyping and light manufacturing facility. We see Gearbox as the on-ramp for more industrial manufacturing to happen in Kenya.
We were thinking of two types of users. First, somewhere that the rapidly growing community around robotics and electronics at the iHub could use. Second, something that was a step beyond a the FabLab at the University of Nairobi, so more useful to smaller companies.
Recently Lemelson Foundation, alongside AutoDesk, USAID and an unnamed benefactor stepped in to make some funds available to find the location and bring on a full-time Director. Dr. Kamau Gachigi started the Univ of Nairobi FabLab, and having him come on to lead this initiative is a real coup – there's no one better in the region who has more experience than this for crating a place for inventors and companies working on rapid prototyping.
Finding a Space and Filling it up
The two main things we're trying to get done before the end of the year are finding a great location, and getting the machines and equipment to fill it.
Finding a Space
We've been looking all over Nairobi for a 10,000-20,000sqft space for Gearbox. It needs to be convenient to get to, large enough to allow us to grow and flex in, and taking a lesson from TechShop we'd like it to be near places where people would like to be already. This means we don't want it too deep in the industrial area, but we'd like the edge, say something near/in Railways, or by the Bunyala roundabout.
If you know of someone who has a good location for Gearbox to grow, please let us know.
Getting Equipment
If you're involved in manufacturing in Kenya, or if you're just someone who wants to get involved, we've created a Gearbox page that shows you how to do that. You can become a corporate or individual sponsor, donate equipment and gear, or give your time to train and help others learn new skills.
The Big Stuff ($5,000 – $100,000+)
Vacuum Former
5-axis CNC Router
3-axis CNC Milling Center
3-axis CNC Router
Laser cutter
Lathe
Vertical Mill Machine
Automated Pick and Place
RFID Access System
Punch Press
Benchtop CNC
Reflow oven
Powder Coating Set-up
Metcal Advanced Rework Package APR5000-DZ-ML
V275-S 4-Pack Inverter Rack Multi-Operator Welder – K2666-1
MULTI-WELD® 350 Multi-Operator Welder – K1735-1
Elektrabrake, manual
Dr. Boy Injection Moulding Machine
There is a lot more needed, many smaller items, which you can also find on the same page.
The companies who are behind getting Gearbox off the ground are the iHub, BRCK, Sanergy, and Ushahidi – while this is a start, it'll take a lot more help from many more small organizations and individuals. Reach out to Kamau and see how you too can get involved at this early stage.