Africa's Mobile Stats and Facts 2012
Few organizations do as good of a job as Praekelt in creating well-designed applications that are used by millions of people in the continent. A couple times a year, they take that same level of quality and create new videos and resources to better showcase Africa's tech statistics. Here's their newest video.
Game Creators: an Interview of Maliyo Games in Nigeria
Good interview of Maliyo Games founder and the opportunity in Africa's gaming space.
Why do you think the African audience is looking for African games instead of Farmville or Mafia Wars?

"It's not so much what they are looking for, more what is being pushed to them. Our games 'Okada Ride', 'Mosquito Smasher' and 'Adanma' have far more local relevance than Mafia Wars. Nigerian music and Nollywood movies have a strong appeal to the local and diasporan consumers. We are riding this trend and thus far we are seeing traction."
Check out Maliyo's website to get their games.
Opera's "State of the Mobile Web" for Africa 2012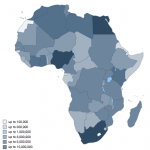 Opera puts together a great resource of user-based statistics [PDF link]. It's a country-by-country breakdown of mobile penetration, user growth, top domains and top handsets used. Here are a few of the interesting tidbits:
Across Africa, data growth seems to outpace page-view growth. This fact suggests that Africans are browsing larger pages and most likely, using richer, more advanced websites.
Facebook is the top domain in every country except for these six, where Google leads: Egypt, Guinea, Djibouti, Comoros, Central African Republic, and Algeria.
Mobile Reporting Field Guide
UC Berkeley has created a mobile reporting field guide, useful for people doing data collection and research as well as activist types.
Upcoming Tech Events in 2012
PyCon South Africa – Cape Town, Oct 4-5
DEMO Africa – Nairobi, Oct 24-26
Tech4Africa – Joburg, Oct 31-Nov 1
AfricaCom – Cape Town, Nov 13-15
Mobile Web Africa – Joburg, Nov 28-29
(If you know of other tech events coming up before the end of the year that you think belong here, put it in the comments and I'll add it later.)
Some Self-Serving Links: