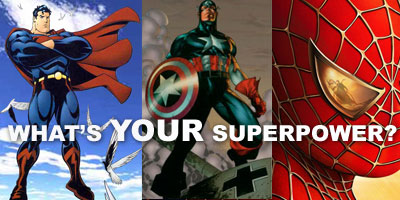 A colleague and I had a discussion recently regarding a particular client over what to do to deal with a potentially sticky situation. My reply was to play it down, and make as little of a deal of it as possible, then to shift gears into other areas of mutual interest to deflect attention from the negatives. To my surprise my colleague stated: "that's your superpower!"
"What?", I replied in confusion.
"That's your superpower. You can somehow make a molehill out of a mountain!"
Now, the thinking-man in me started to ponder this idea. Not in the "am I spiderman?" sense, more of the "interesting…" type of way. I think it touches on what we usually recognize as peoples gifts. Lebron is a gifted basketball player, Mel Gibson is a gifted actor, and I have a friend who is gifted at making an ass of himself.
You see, each person does have a superpower. My colleague told me that hers was shopping. I'm not one to judge, but I'm quite happy with mine at the moment. True, it doesn't allow me to make millions playing a sport I love, nor does it secure me in the knowledge that I'm wearing the trendiest clothing, but it does help me in other (less fiduciary) ways.
So, what's your superpower?