It seems that our West African friends have taken to employing Baboons and Hyenas for protection and entertainment. I have had the luxury to travel over many parts of East and North Africa, but have never seen anything like this in my life!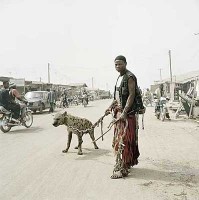 Fisi / Hyena Handler
I know that there has been a history of training and trying to domesticate wild animals in Africa, especially by us mzungu (white Africans). Here are some more images for your viewing pleasure (click for a larger image).