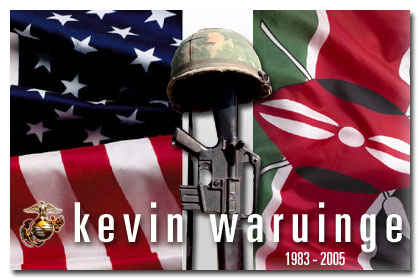 My condolences to the Waruinge's and my prayers for the family. I feel particularly sad for this young man, even though I don't know him or his family at all. He shares a similar background to myself, a fairly unique set of beliefs and life experiences are the invisible lines that draw us together – I wish I could have met him.
Thursday, August 4, 2005

A Tampa family is mourning the loss of a soldier who was among six Marines killed in Iraq Wednesday when their vehicle was struck by an explosive device.

Military officials say 22-year-old Kevin Waruinge was serving on his second tour in Iraq as a part of the Fourth Assault Amphibian Battalion. He and his family immigrated to the Bay area from Kenya in 1998.

Those who knew Waruinge says he loved the U.S. so much that he went to war for before becoming a citizen.

"The first time I saw him in uniform I thought he was gonna break his buttons," said Pastor Bruce Turner. "He was so excited about having achieved a life-long dream.What's really neat is that he went into the Marines not a citizen of the United States, and went to Iraq not a citizen of the United States, and later became a naturalized citizen I think in 2003. And so when he initially fought for our country, he was not even a citizen of the U.S., but he loved this country and he loved what we stood for and opportunity and he really did believe in what we were doing in Iraq."

"He felt that he needed to go back. He felt it was a honorable thing that we were trying to help the people there," he said. "He felt good about getting Saddam Hussein out of there, and he wanted to go back and finish the job."
This young man deserves our respect, he not only served one tour of duty, but he volunteered to return. I hope that his family from Kenya will also be able to make the trip, and I'm glad to hear that the Marines are paving the way to make that happen through helping get their visas.