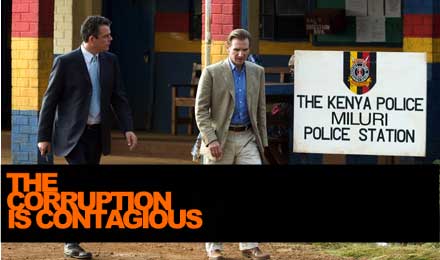 The movie is now out. Click the picture above, or here to go to the movie's main site. You can also go to Fandango.com if you're in the US to check the local times for it.
Synopsis:
In a remote area of Northern Kenya, the region's most dedicated activist, the passionate Tessa Quayle (Rachel Weisz), has been found brutally murdered. Tessa's travelling companion, a local doctor, appears to have fled the scene, and the evidence points to a crime of passion. Sandy Woodrow (Danny Huston), Sir Bernard Pellegrin (Bill Nighy), and the other members of the British High Commission assume that Tessa's widower, their mild-mannered and unambitious colleague Justin Quayle (Ralph Fiennes), will leave the matter to their discretion.
They could not be more wrong. This career diplomat's equilibrium has been exploded by the loss of the woman he was deeply devoted to. Haunted by remorse and jarred by rumors of his wife's infidelities, Justin surprises himself by plunging headlong into a dangerous odyssey.