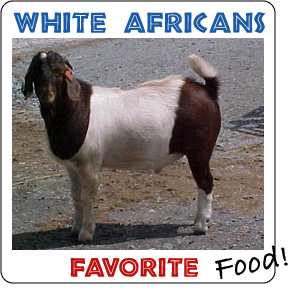 In Africa, we like our goat meat. There is nothing, and I do mean nothing, better than an evening spent with friends while eating nyama choma ya mbuzi. This is why I find it completely ludicrous to hear a story of a girl in New York who "saved" a goat from being eaten.
FLUSHING, N.Y. (New York Post) — One lucky baby goat escaped becoming the main course, thanks to one plucky little girl.

A Flushing, N.Y., family bought Meadow the goat to be cooked and eaten, but the agile animal escaped from their yard, setting off a neighborhood chase.

For the full story go here.
Maybe I'm being insensitive, but don't people realize that goats, as welll as cows and chickens, have been human food for millenia? I guess you could say the same of cats and dogs if you're Oriental. I don't harbor ill will against people who eat cats and dogs, nor do I think it wrong, they see them the same way we do beef, mutton and chicken.