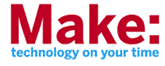 Make magazine is my type of rag.
Let's be honest, who wouldn't want to learn how to put the game Dance Dance Revolution on their Texas Instruments Ti calculator? Or, for those more daring how about making a jet propelled blimp for a $1?
Make is a quarterly magazine. The cost is the only negative thing I can think of, it does have a $14.99 cover price afterall. The articles are all top notch, it has interesting and fun projects and best of all it's unique. So, there's my sales pitch – go buy a copy at your local bookstore and see if you like it, but know that your White African heartily endorses it.