I'm a web marketing strategist. In that role, I use a lot (and I mean A LOT) of different tools for a variety of clients and projects. Most software companies seem to think that a tool should have every possible combination of functionality that could ever be needed, and that a "simple" user interface must be a sign of weakness in an application.
A month or so back I was led to a small company out of Australia by the name of Campaign Monitor. They had designed an email application because they were tired of the headaches caused by using the other software that was out there. When they realized that others were having the same problem, they decided to open its use up to others. Now, you can sign up for free and send emails for $.01 each (2,000 emails will cost me $30 + $5 usage = $35 total). Very simple, very straightforward.
Reporting is great. You can track all the ordinary metrics: bounces, opens, clickthroughs, etc.. They wrap it all up and give it back to you in nice non-excel type graphics which are usable in reports to clients. Email lists are easy to setup and manage, and you don't have to be a rocket scientist to figure out how to add Forward-to-a-friend and custom unsubscribe components.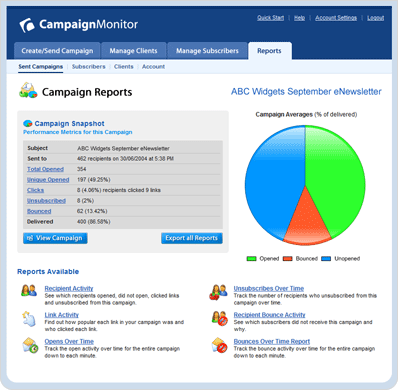 I wish more software companies would understand this simple fact: build a simple, solid and easy-to-use application and you will be succesful. Customers will transform into zealots (like me), and trumpet your product for free to anyone that will listen. You can't buy this type of marketing – another thing I know quite a bit about!
So, a long story short, if you are a web designer, small business or freelancer that has a need for a quality email program, do yourself a favor and look at Campaign Monitor. Take it from one who has used everything from CheetahMail to ExactTarget, you will like it (plus, it's free to try so give it a whirl).
Make sure you give the Campaign Monitor Blog a look to. Great advice and quality email design examples.