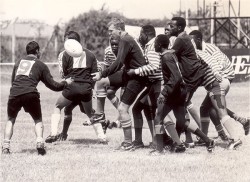 What is it about those of us who grew up in Kenya? We just can't get enough head bashing, smashing and mashing. Ever since those glory days at RVA (ahh, yes claim your school!) I've had a love for the sport. I don't want to ruin this article by bringing up wonderful memories of stomping all over St. Mary's, Patch or Changez – I'll leave that for another time… 🙂
I just read one of my favorite bloggers – "M" over at Thinker's Room – who has a great way with words in Rugby, reminisces & KBW. I complained loud enough about not making the squad and he assigned me as a substitute. Yani, I'm praying for injuries so that I get a chance to play!
An exerpt:
It is quite rightly called a hooligan's game played by gentlemen. There is action, elegance, grace and strategy in the game, as well as availing excellent opportunities to break your neck…
Other Kenyans, invariably great storytellers, also like to tell the old ruge stories. Mental Acrobatics has some on the new All Blacks Haka and on Team Talk. Now, if only I could get good rugby coverage here in the US.