The Economist has a very interesting piece on the Arab world and what's wrong with it developmentally. They state that the three areas of deficit that Arab nations need to fix are freedom, knowledge and womanpower.
WHAT went wrong with the Arab world? Why is it so stuck behind the times? It is not an obviously unlucky region. Fatly endowed with oil, and with its people sharing a rich cultural, religious and linguistic heritage, it is faced neither with endemic poverty nor with ethnic conflict. It shook off its colonial or neo-colonial legacies long ago, and the countries that had revolutions should have had time to recover from them. But, with barely an exception, its autocratic rulers, whether presidents or kings, give up their authority only when they die; its elections are a sick joke; half its people are treated as lesser legal and economic beings, and more than half its young, burdened by joblessness and stifled by conservative religious tradition, are said to want to get out of the place as soon as they can.
(read the rest)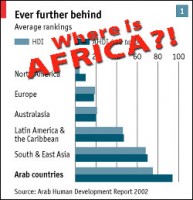 However good this report is, I have one major beef with it. Why is it that Africa can't even show up on these charts. It's as if the whole continent doesn't exist until you get half-way through the report. That's one of our biggest problems: getting on people's radars.