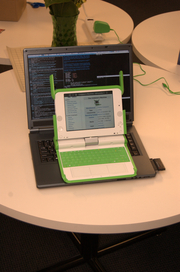 I was following the One Laptop Per Child (OLPC) program/initiative very closely for a while, and still do. However, since I found the OLPC News blog I've forgotten to pass that information on. The OLPC News blog is a great place to keep abreast of what's happening with our favorite cheap computer. In their own words:
Your independent source for news, information, commentary, and discussion of the One Laptop Per Child $100 dollar 2B1 Children's Machine laptop developed by MIT Media Lab co-founder Nicholas Negroponte.
Interestingly enough, one of their writers lives in Western Kenya – David is originally from the UK. I'd like to see some more thoughts on their blog from non-Westerners though. It would be a great step in the right direction if they were to enlist the help of individuals in the developing nations that they operate in to write about the OLPC.
They mention another great resource for information on the project, the OLPC Wiki. Definitely check it out if you have the time. Add to it if you have some insights or news.