SR recently left a comment about t-shirt shops on my post So, You Want to Setup an Online Store. I specifically left the t-shirt shops out of that discussion, because they deserve their own analysis as they are a much different type of beast. In the online stores model you manage your own inventory, while in the t-shirt shop model you only worry about design and don't give a thought to whether or not you have enough medium navy-blue halter tops.
How they work:
Most of these companies allow you to setup your own store. There are two business models that are followed. One is where you make a commission on anything that gets sold on your store, or by someone that you brought in from one of your links. The other gives you a base price for the products and you mark them up and pocket the difference. As you would expect there are variations of these two models as well.
It should be mentioned that though I call these t-shirt shops, because that's what many of them started out as, many times they offer other accessories for you to apply your designs to. This could be anything from coffee cups to mouse pads, license plate frames to stamps.

Cafepress


The grand old daddy of this space, Cafepress was setup in the late 90's. I set up an RVA Alumni store with them 2 years ago, when they were the only option, and have made a fair amount of money for the time spent working on it. Cafepress lags behind the other newer offerings in features and types of products that can be made. Their base price is pretty high already, so any markup you apply only seems to make your store seem outrageously priced.
Zazzle

I rejoiced when Zazzle came onto the scene, primarily because there was finally competition and also because they offered colored shirts and the ability for the end-buyer to customize the size, color and design. Zazzle is a perfect example of how to take on an estabished competitor (Cafepress) who doesn't evolve.
So, of course I setup an RVA Alumni store here as well, and was pleased with the commissions that came in. The prices are still a little high, but you don't have to mark them up, you just make commissions on the sales – 17% to be exact.
Goodstorm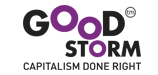 The newest entrant into the online t-shirt store industry is Goodstorm. I have not had the chance to test them out yet, but their offering does look good. For instance, they offer a way to put your store onto your own website using an I-frame – just copy and paste a snippet of HTML. That's good solid innovation.
You'll notice that WordPress actually manages their store through GoodStorm, so in honor of the platform that this blog uses, I have to give it a nod. 🙂 (I will actually be trying GoodStorm out and testing it futher as soon as I find some spare time)
Spreadshirt


Spreadshirt is the most international of these companies, having started in Germany they have been around for a little while (2002), and they have a good size marketplace of stores both in the US and Europe. Like Cafepress, there is a base price for all items and you mark those up for each product you sell.
I have had limited interaction with Spreadshirt, beyond trying to setup one product. I found the process of getting a product up for sale to be a little more difficult than the others listed here. However, there are some big names who use Spreadshirt as their merchandise store, including BoingBoing, LinkedIn and Mozdev.org.