I arrived in from South Africa in time to make it to the regular "Skunkworks" meeting in Nairobi, Kenya. This is where many of the brightest tech minds in Kenya get together to discuss ideas and pertinent issues within the Kenyan ICT sector.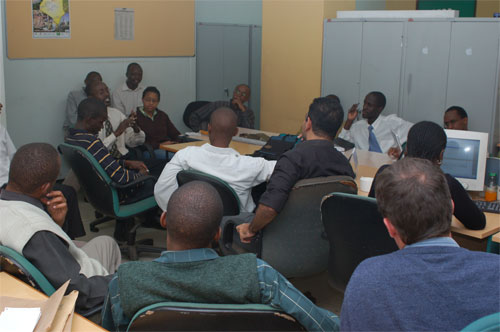 Among those present were Riyaz Bachani and Josiah Mugambi, two of the BarCamp Kenya organizers. I also had the chance to meet Mugambi Kimathi, creator of Jahazi (covered earlier). Jean-Antoine Bord, behind Pajama Nation, was also present. So, it was fun to talk to some of these guys who are at the "center of the storm" of web development in Kenya.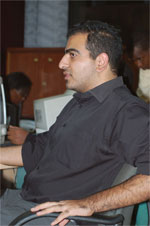 The topic for last evening's discussion was the creation of a Linux Professional's Association of Kenya, the positioning of Linux within the public and private sectors, and discussions on how to educate people about the benefits of open source operating systems and software. After having a long discussion with Heather Ford, Director of iCommons, which is based in South Africa, I can't help but think that there is so much that can be done between these two groups.
At the end of the meeting, the consensus seemed to be that people in government, SME's and even big business don't really care about what the operating system is, so long as it works. If they can save money and run their business more profitably because of the decisions that their IT consultants make, then that's a big extra. Having a local open source association that can provide success stories of companies and parastatals that have successfully implemented open source software will be a big help for further growth in this area.
Overall it was a great meeting that I really enjoyed sitting in on. The tech community in Nairobi was well represented and you can tell how passionate everyone is about creating a better tech sector in Kenya.