Fahamu and Tactical Tech have joined forces to put on a Mobile Advocacy Workshop in Nairobi. I had the chance to attend the afternoon sessions today, and will be taking part in the Mobile Toolkit Workgroup tomorrow.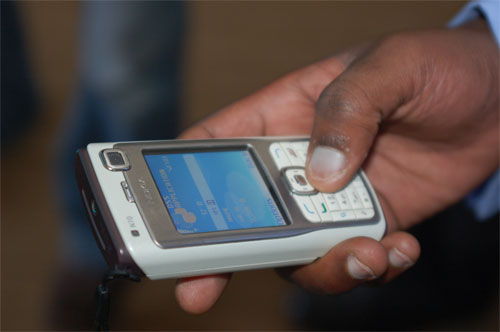 The first 3 days were taken up with examples and stories of how mobile technology is being used as an effective tool within NGO's that have a focus on human rights and social advocacy. A typical question at these sessions would be, " What do you need to make your work with mobiles more effective?"
A few of the answers:
Access to service reports (SMS)
User-friendly software
Tables with the list of providers that are able to send messages to other providers
Alternative power (solar power, charging and energy saving techniques)
A glossary of the technical jargon
Text-to-voice techniques
Mobile-to-blog techniques
Tomorrow, just the tech guys will remain and we will discuss what tools and information will be included in the "Mobile Toolkit" so that future programs will have a starting point to reference for their projects. The first three days of hearing what is being done, and what is needed, is critical if a toolkit is to be developed that is both useful and informative. A typical question here would be, "What is the toolkit going to look like?"
A few of the answers:
It should have a web presence
It should be a package with a clear guide on how to use it and a navigation system with links to other users
It should include CDs
A book (multi language)
It should be downloadable
While here I've had a chance to meet two blog/email acquaintances too, Sokari Ekine of Black Looks and Ken Banks of Kiwanja.net. They're both experts in their fields, and it's been great getting to know them on a face-to-face level. Sokari works at Fahamu and has been a social activist for quite some time. She has a particular focus on women's rights, as can be seen on her blog. Ken Banks is a technologist who developed Frontline SMS, the system used to monitor the Nigerian elections amongst others.