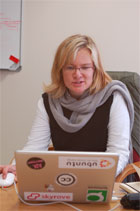 Heather Ford of iCommons gets her Wikipedia page.
Heather is the head of iCommons, which has it's world headquarters in Johannesburg, South Africa. iCommons also organizes the annual iSummit, held in a different country each year. I had the chance to sit down with her for a chat and can tell you that she is an amazing woman. I'm really impressed with how she has grown the awareness of open source issues outside of the US and Europe.
(Sidenote: What's up with these graduates of the Rhodes University School of Journalism, they pop up everywhere!?)
iCommons.org Launches a New Community Focused Website
iCommons has also just launched it's new website, which is a HUGE improvement over the previous version. It's now a very interactive site that encourages you to register and dive in as a member of the iCommons community. This only makes sense due to the open nature of what they do. If you have an article, report or event to tell people about, do it here.
Top new features on the iCommons website:
A Digg-like voting system for interesting and important stories
An internal wiki for iCommons related issues
A new iCommons blog
There is now Culture Database
Create a "Node" – which is a way for people to submit projects for consideration by the community and by iCommons. "A node is a project that is focused on progressing one aspect of the open content, access to knowledge, open access publishing or free culture."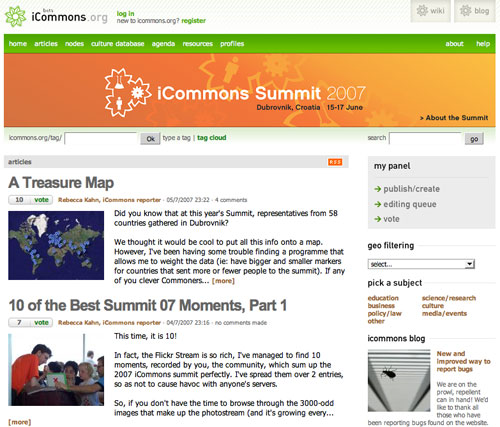 iCommons has the respect and ear of many people. Africans around the continent should take advantage of the fact that it is headquartered in Africa. Contact Heather and her staff and find ways that you can work together. She mentioned to me more than once that she would like to have iCommons plugged into the local tech communities in each country – a great example would be the techies at Skunkworks in Kenya, or BusyInternet in Ghana, and iCommons working together on something.
A good place to start would be taking part in the iCommons community – register and see if you can add to the conversation. I know they also look for helping hands on organizing the iSummit each year.