My parents were linguists, they worked to create a written language for the Toposa of southeastern Sudan. From a young age the importance of language was impressed upon me, but it was academic… How many other 8 year olds do you know that are aware that there are 134 distinct Sudanese languages of which 8 are extinct?
Academic understanding of language barriers becomes real-life frustration for me as I try and cover the web and mobile space in Africa. For instance, I'd love to know more about, and do a write-up on the following:

Ivoire Blog – The new blogging platform for Cote D'Ivoire
Akopo – A social media and blogging platform for Cameroonians
Mboasu – A new West African mobile remittance product
However, it's hard for me to track, contact and write about services like these that are popping up in Francophone or Arabic-speaking Africa, simply because I lack the language skills.
Sometimes I come across what looks to be an interesting blog – usually due to visuals since I can't read it. I then filter that blog through a tool like Google's Translation service and get back a nicely garbled bunching of English words that I then work towards deciphering into usable chunks.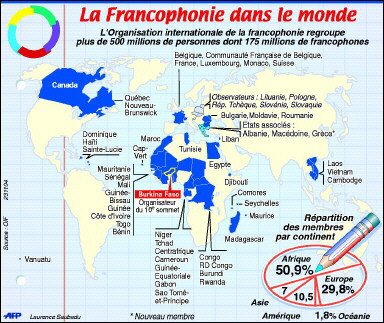 (did you know that approximately 50% of the African continent speaks French?)
PALDO – An African Language Initiative
These types of thoughts were running through my head, when I got an email about an upcoming meeting (April 2, 2008) and initiative called The Pan-African Living Dictionary Online (PALDO). They are attempting to create an interlinked multilingual dictionary for African languages. It is being built upon the foundation of the well-known Kamusi Project, which developed a useful online Swahili/English dictionary.
PALDO is particularly hoping for participation from programmers, linguists, database experts, lexicographers and past users with experience in other online dictionaries.

It's encouraging to see that this is in partnership with Kasahorow, who is working to solve the problem of localized computer input methods for languages. Basically, create a keyboard that works for multiple language clusters.
A couple years ago I wrote a post about technology versus tribal languages in Africa. It's a HUGE hurdle to overcome when creating web and mobile platforms that you would like to take to the whole African market. It's why so many companies do great stuff in their local market, maybe even their region, but fail getting pan-African adoption.
It's unclear how PALDO will solve some of these issues. However, I'm always interested in seeing how aggregation and visualization of data can be used to create better products, or bring insight into areas where things are so confused.
One thing is for sure though, PALDO won't solve my personal communications issues – what I need to do is go learn French and re-learn Arabic.