What a great "day off"! The Tusker Safari Sevens was such a fun way to spend a Sunday. Taking sports photographs is one of my favorite things, and rugby is the best sport to do it in – so much action. I ended up wandering around like a press photographer, even climbing up the tower to get some unique views.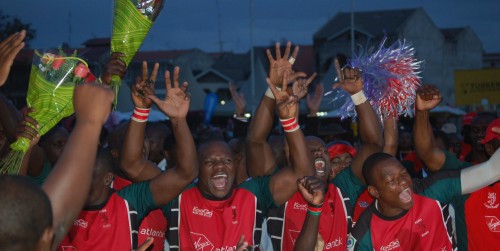 It's the "Tusker" Safari Sevens, but I guess they don't sponsor it well enough to also sponsor the team – they are sponsored by Virgin. In fact, I hear that it might not be called the Tusker Safari Sevens that much longer – too bad. I like that name, Kenyan beer and an internationally recognized Kenyan tournament, it'll be sad to see it go.
This year brought in the world champion 7's team from Fiji, as well as the French team. The emerging 'Boks (South Africa's team) were there as well, and they've won the last 3 years. Kenya ended up having to beat Fiji (which rumor says, each player would get 50,000/= shillings if they did).
Kenya won narrow, and hard fought, games against Fiji and Zimbabwe to get to the final. Meanwhile, the Emerging Boks smeared their competition on their way to meet Kenya. Honestly, I thought Kenya would have a hard time in this game. Instead, they blew the doors off with 2 quick tries, and never looked back as they won 31-12.
Of course, the crowd was rowdy as ever, singing familiar Kenyan rugby chants and getting drunker by the hour. Prime Minister Raila Odinga showed up mid-afternoon, to much fan fair and noise – a politically savvy move. All in all, it was a fabulously good time that I hope to see again next year.
(Note: I took over 1000 pictures, a couple dozen can be found here)
I've finally been able to upload some video, you can find more on my YouTube channel. Here is a shot of the last try by Kenya vs South Africa: