Barcamp Nairobi ended up being quite an event, with 228 attendees and an overwhelming amount of good conversations. The list included bloggers, web and mobile developers, government officials and students. We had people from all over Kenya, as well as a couple who came in from Tanzania. It was truly eclectic and exactly what we were hoping it would be. Josiah Mugambi has the full run-down of topics covered in each room.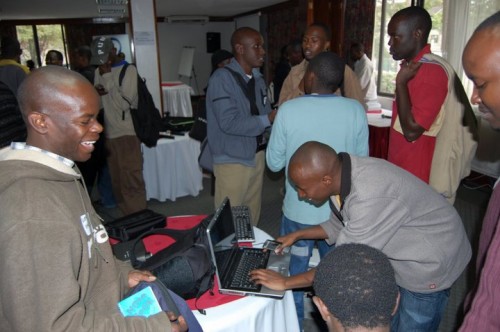 Pictures
Can be found on Picasa, Flickr and Facebook (you'll have to friend John Wesonga for the Facebook ones).
Videos
I'm working on uploading a couple videos from Barcamp Nairobi. There were some really good conversations started, not all of which I was able to get on video, or even be in the room for. Hopefully, we'll get some blog posts and videos from others who were there as well.
I'll continue uploading additional videos throughout the week on YouTube.
Barcamp Nairobi Bloggers (let me know if I missed you):

O'Reilly Radar (Programming Languages Survey)
Al Kags (gov't perspective)
Rob Rooker
The Deeper Meaning of Life (Liz)
John Wesonga
Wilfred Mworia
Josiah Mugambi
Clement "Omesa" Ongera
Peperuka
Frontline Interactive
69mb (poster) (post #2)
Louder than Swahili (post #2)
Startup Africa
Notes from the Road (on Ndemo)
SportsKenya
Tech Talk (NY Times columnist)
Girl in the Meadow
The Gitts Zone
Brian Longwe
Kenyan Poet
Open Source Africa
Do Good Well
Business in Focus
Odyssean
Network World