Recently, I've noticed a sudden buzz about ecommerce in Kenya. Brian Longwe talks about the beginnings of this with Mpesa, emails are bouncing around between companies I know, and last week I spent a morning listening in to what the Kenya ICT Board and Federation had to say about it.
Let me start with the Kenya ICT Board. The meeting was basically about legislation and the fact that ecommerce would be good for Kenya. Of course it is, anything that lowers transaction costs for both buyers and sellers greases the wheels of commerce and increases the amount of trade across all industries and sectors. That's a given.
But how? See, that's the big sticking point that I've been banging my head against the wall over for 2 years now. It's not enough that you can buy and sell with a Visa or Mastercard in Kenya. As long as you continue to ignore the wananchi (average person), then you'll only help the wealthy and not see the real gains and advantages of a level playing field.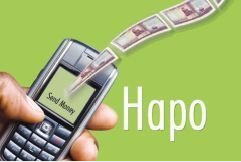 Which brings me to Brian talking about Mpesa, the mobile phone payment system in Kenya. For, in Mpesa, we have the beginnings of a payment system that can be used by everyone. He's right about that. What's wrong is that it's mobile phone carrier dependent (Safaricom).
What we need is a carrier and bank agnostic ecommerce platform for Africa. Why?
Let's go back to our "average person" again and talk about banks. They are generally unbanked (thus the use of Mpesa), or if they are, they have only a couple thousand shillings (less than $100) in the bank. The transaction costs for them having to keep their money in these aging institutions is often impractical. They have no, or very limited, opportunities to borrow money and they have no realistic way of getting any type of credit.
So, as can be seen, tying money, credit and debt to banks is not practical.
Now, let's talk about why it needs to be carrier agnostic. This is even easier to understand. In Kenya there are two carriers; Safaricom (Mpesa) and Celtel (me2u). By the end of the year, there will be four. The barriers to use of a system that relies on one carrier is as ridiculous as requiring any payment system on the web to only go through one ISP. Sure, it makes sense if you're that company to control that monopoly, but it's bad for everyone else.
What does this mean then? Where do we go from here?
The upsides of a carrier and bank agnostic payment system is high. Not only would a system like this be used for the obvious domestic transactions (Kenya-to-Kenya) and external transactions (Kenya-to-world), but all of the sudden we have the ability to create real micro-loans and a new system to create credit scores for unbanked people over time. That's wealth building, and it would transform Kenya.
Well, first off, let those who have the funds to do so, start building the right type of payment gateway. Start in Kenya and grow regionally, then continent-wide. It's a semi-heavy investment (relative to who you are of course), but the return is absolutely insane. In fact, it's ridiculous that after this long no one has done anything beyond build monopolies in this space.
[Note: My first post on this from 2 years ago]