TED 2009 starts this week, and I'm heading to California early as part of the new TED Fellows program. As expected, there is an amazing line-up of speakers, but what I'm really excited about is the other attendees and the other TED Fellows. (A quick warning as well, there will be an inordinate number of posts here this week during TED, then back to normal.)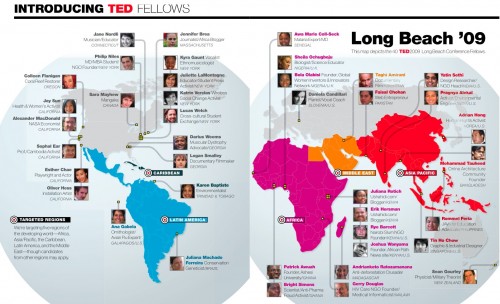 Interestingly enough, this whole program started in Africa – with the fellows at TED Global 2007 in Arusha, Tanzania:
"Because TEDAfrica's success in 2007 was due in no small part to the boundless energy and remarkable ideas of our fellows, we decided to create a permanent program to bring more amazing leaders into the TED Community. TED will help them communicate their 'ideas worth spreading' to a much larger audience," said Tom Rielly, TED Community Director, who is responsible for the program.
This is true. Anyone who was there will agree that there was an electricity in the air that was palpable. Talks from Andrew Mwenda, Chris Abani and George Ayittey set the tone. Conversations were started, lasting relationships built and future leaders inspired. It helped remind us that Africa can be greater, and that we need look no further than ourselves to catalyze that change.
As testament to this, 4 of the 5 full-time members of Ushahidi were TED Fellows in Arusha: Henry Addo, Juliana Rotich, Ory Okolloh and myself.
The New TED Fellows Program
Each year TED plans to bring on 50 Fellows to attend TED and TED Global (this year there are more, as there will be another 100 Fellows at TED India). An international selection committee representing the target regions will then choose 20 Senior Fellows, who can take part in the next 3 years of TED conferences, at which point they become TED Alumni.