There has been a lot of talk, especially in East Africa, about business process outsourcing (BPO) as a big way to elevate the technology field. The logic is that while many of these jobs might not be super high-tech (ie, programmers), they're at least in the tech field thereby allowing people to get comfortable with computers and bringing outside investment into the country.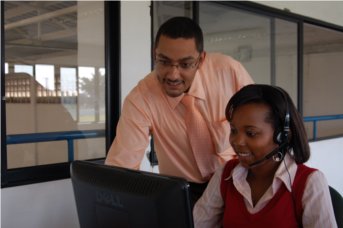 Kenya has a great number of qualified students leaving university each year that. Enrollment in 2008/09 (public, private, part-time) was 122,847, and my friend Bankelele estimates annual graduation at about 30,000.
Kenya's BPO strategy is best summarized and detailed by Gathara (read more):
"The general thrust of the report is that coming late to the party, Kenya has no chance of becoming a Tier 1 provider; it lacks the scale to become a global player like India or the Philippines. So the suggestion is that she leverages her relatively small pool of cheap, accent-neutral English-speaking graduates, her strong ties to the US and UK (which together account for nearly 60% of the outsourcing market), improving infrastructure and an already thriving business environment, to create a niche for herself in basic sales and customer-care services and attract large international BPO companies."
(also, read the Kenya ICT Board's position on BPO)
It's a sound business area to put resources into, especially if you're a government entity focused on growing jobs and investing in seeing the technology sector grow. However, I've been troubled by the idea that it's focused mainly on the KenCall-type outfits – basic call centers. It seems that there's more opportunity here than this. Let's not sell East Africa short as a low-cost, low-value BPO region, but look more closely at a strategy for attracting higher margin clients for services by highly qualified BPO firms locally.
Shifting the BPO Paradigm
Beyond cloning what India or the Philippines has done, can we rethink the outsourcing paradigm?
Nairobi, due to location, climate and a number of other reasons ends up being the hub of a lot of major corporations (Google, Microsoft, IBM, Nokia, etc), large non-profit organizations (UNEP, CARE, World Vision, Hivos, etc) and a host of medium-sized companies. These represent businesses with large amounts of revenue which is mostly injected from overseas. Why are their business processes being run out of expensive central offices in regions like the US and Europe?
Earlier this week I discussed this with Wiebe Boer of the Rockefeller Foundation in Kenya, who has given the Kenya ICT Board $500k to drive their BPO strategy. He worked on the original McKinsey team to architect the six pillars of economic growth underpinning Vision 2030, of which BOP was one (and the only one being acted upon currently).
He had some good ideas, stretching the understanding of the traditional BPO definition of East Africa, and leveraging bigger organizations to shift their non-core competency work to Kenya. Instead of just outsourcing customer service, think procurement, basic HR functionality, IT, monitoring and evaluation, and accounting.
Last week the NetHope meeting came to Nairobi, their list of member organizations is impressive as far a "big NGOs" go. They represent a lot of money and a lot of potential for business for BPOs here in Kenya. Their supporters are the likes of Cisco, Intel, Microsoft, CDW and Accenture. Together, both supporters and members represent a vast pool of organizations ripe for this expanded type of BPO.
Business opportunities for seasoned entrepreneurs abound. An example would be to build a strong firm that could focus on a couple of the non-traditional outsourcing needs (think M&E and HR). Many corporations and organizations (internationally and locally) need this and don't have the in-house capabilities to do it right. Groups like the Rockefeller Foundation are poised to pressure the groups that they support financially into using BPO companies in Kenya, so if real viable firm was available, cash flow would be less of a risk than in other enterprises.