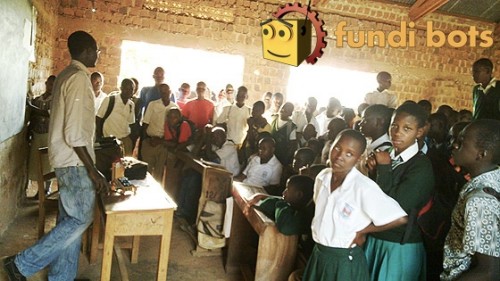 Hardware hacking is what Solomon King does in Uganda, he already makes his own robots, now he's taking that idea a little further. He's taking it to kids, trying to get robotics into the hands of Ugandan youth through his Fundi Bots project. (Fundi is the word for technician).
Their plan comes in three parts: a lab, school robotics clubs and robotics camps.
That first item is important, a lab. A central place where the members of Fundi Bots can come in and find the relatively expensive tools, software and computers needed to make the robots and learn together. It gives a hub to their spokes of activity taking place in the schools throughout the year, a much needed "club house" for the community.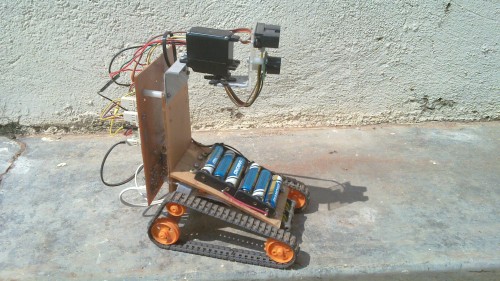 This idea of hardware hacking garages is something I've spoken about before:
This is an idea that effects everyone across Africa, a space like this is accessible and usable by young and experienced, rural and urban inventors and entrepreneurs. As much as we'd like to pretend that the ideas coming from outside of Africa will be picked up and used, the truth is that the ideas need to come from Africans for themselves and their community. An open Hacking Garage platform is where real hardware innovation for Africa will come from.
Interestingly, the founder of Fundi Bots is from the software side, he's the CEO of his own web services company Node Six, and a well-respected member of that community. I find it interesting that a lot of times, the people who get into the robotics side come from a software background.
What I find even more encouraging is that Solomon and his colleagues in this enterprise, Betty Kituyi and Gasper Obua, are doing this on their own. They aren't waiting for investment, grants or some other form of support to get started. Instead, they're creating robots, making inroads into schools and figuring it out as they go. Too many times people sit on a good idea and make excuses for why they're not doing something about it. That's not the case here.
Finally, if you're interested in Fundi Bots, I do know that they could use some support. It might be getting them into schools, or connections with robotic parts manufacturers or resellers.
Other Hardware Hacking News
Makeshift Magazine

Put together by Steve Daniels, Myles Estey and Niti Bhan, Makeshift is a new quarterly magazine and journal about maker culture from far parts of the world. The first publication will be themed "Re-culture: Reuse, repair, and recycle at the grassroots," featuring stories such as everyday product hacks in Kenya, industrial fabric recycling in India, improvised tools in Myanmar, recycled art in Colombia, and adaptive reuse of industrial sites in the United States. Support their Kickstarter campaign.
Maker Faire Africa 2011: Egypt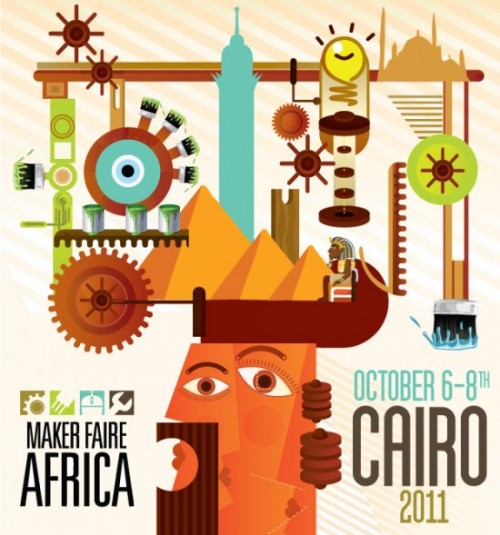 Also happening later this year is Maker Faire Africa, in Egypt. It's a mashpit of hardware hackers, just like Solomon, who are creating new inventions and making new products. This is the third Maker Faire Africa, following Ghana and Kenya, and will bring a unique northern Africa flavor to the event.