In the last couple weeks I've had the opportunity to be in Nigeria (Maker Faire Africa), followed by South Africa (AfricaCom). Along with Kenya, these countries represent the biggest technology countries on the continent. They are the regional tech hub cities at this point in Africa.
In both places I was struck by how different each country is, and the challenges and opportunities that arise due to the tech community's connectedness, regulatory stance and local entrepreneurship culture.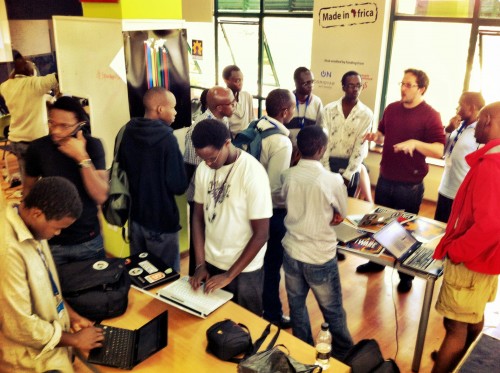 Some Theories
South Africa has so much infrastructure, you're immediately struck by how money isn't an issue there. The lesson I took away from the DEMO Africa conference is that South Africans are far, far ahead of the rest of the continent in enterprise apps and services. They tend to see themselves as "not African", and try to identify with Americans or Europeans. This comes out in their tech products, they have a more global focus and tend to fill the gaps that are needed by the many multinational corporates that call South Africa their home in Africa.
Nigeria has so many people, it overwhelms in it's pure mass. It's a bit cramped, louder, and more energetic than almost any other country in Africa. Nigerians have a long history in entertainment, with their Nollywood films and music spreading across the continent. It wouldn't be surprising to find a killer entertainment consumer app coming from Nigeria, that can be exported regionally and internationally.
Kenyan tech companies tend to focus on localized consumer needs, and we have a competitive advantage in anything to do with mobile money. Even in the secondary and tertiary uses, I'm always struck by how much more advanced the Kenyan startups are with local eCommerce products and marketplaces than their other African counterparts.
Kenya is smaller than Nigeria and has less infrastructure than South Africa. Why then are there so many more startups per capita, more innovative products coming from Kenya right now?
A History of Community
Kenya's technology scene is vibrant and there's a certain connectedness amongst the community that isn't found in the other two countries, yet.
I was in Ghana in 2009 for the first Maker Faire Africa. I went around visiting a lot of tech companies and individuals I had gotten to know via blogging over the years. What struck me at the time was that there wasn't even a tech mailing list that connected the community. We'd had the Skunkworks mailing list in Kenya since 2006. My assumption had been that every country with any type of critical mass in tech had a forum of some sort for connecting tech people to each other.
20+ members in the Ghana tech community came together at Maker Faire Africa and decided to start Ghana tech mailing list. I'm still subscribed to it, and it's a great resource for both myself and those using it. With that list, and the founding of MEST in 2008 (their tech entrepreneur training center) that Ghana's tech scene started to get connected and move forward strongly together a couple years ago.
Fast forward to Nigeria a couple weeks ago. As far as I can tell, there are some tech-related forums, though not a mailing list. These have been valuable in connecting people, but it seems that the ccHub, founded last year, is the start of a real connectedness between members of the tech community. I got the feeling that all the energy and entrepreneurialism that makes up the Nigerian culture of business now has a tech heart and that we'll see an acceleration of growth in the coming years that has been missing until now.
For many years, the tech bloggers of South Africa organized and centralized conversations around tech with events like 27Dinner, BarCamps and more. They have long-standing tech hubs, such as Bandwidth Barn, they have a network of angel investors and greater access to VC funding. There wasn't a centralized mailing list or forum back in the day (before 2008) that I know of. A few years ago we saw the rise of Silicon Cape, an initiative to bring attention to Cape Town's startup culture.
At AfricaCom an interesting discussion ensued around South Africa's tech community and questions on why it wasn't getting as much attention or traction as Kenya. Two points were brought up that I think are incredibly important.
First, while Silicon Cape is focused on branding (and doing a good job of it), what is really needed is someone to bring the new tech hubs, startups, angel investors, media, academia, corporations, and even the government together. There's a lot of activity, each in it's own silo. It's a hard job being the trusted bridge between these different parts of what can be a very opinionated and political community. I'd suggest that Silicon Cape's mission should be to do just this.
Second, In Kenya and Nigeria the founders of startups tend to look a lot like a cross section of the country's population. The tech community in South Africa doesn't look a lot like the racial makeup of the country. to put it bluntly, I rarely see a black South African tech entrepreneur. Not being from there, I'm not sure why this is, so it's just an observation. It's hard to build a product for a community that you're not from, nor understand, so I can't help but think that the South African tech scene would benefit greatly by having more people building companies to solve problems from all parts of that country's stratified makeup.
A Connected Community
Sitting at 38,000 feet writing this piece, I keep thinking how there seems to be a link between the connectedness of a tech community in a country and it's vibrancy as an industry. Though I realize there are other variables, this explanation helps me explain why Kenya is further ahead in some areas than other countries.
As I look to Kenya more deeply I'm struck by how important the egoless actions of individuals like Riyaz Bachani and Josiah Mugambi (Skunkworks), Dr. Bitange Ndemo (Government), Joe Mucheru (Google), and others have been in setting us on a trajectory that we all benefit from as the whole becomes greater than the sum of it's parts.
This theory of a connected tech community doesn't mean that the everyone always agrees or walks in lock-step with each other. There's a healthiness in internal critique and desire to find solutions beyond the status quo of the moment. However, I do think it does provide a foundational element for cities and countries trying to grow a more meaningful and vibrant tech community.
The connectedness can come in two ways, digital and analog, and will have a different flavor in each country that mirrors it's own culture. It helps to have a centralized digital space to throw out questions, opinions and find answers on efficiently. Equally, I think we're seeing that analog, physical meeting spaces that are represented by the growing number of tech hubs around the continent are another way to accelerate the connectedness needed to grow.
Africa's tech hubs are the new centralized meeting spaces, the watering holes, for connectivity and connectedness. However, it's not enough to have a space, without local champions who are willing to make it their mission to grow, connect and bridge the tech ecosystem (gov't, corporates, startups, academia, investors), then they won't work.