Understanding what drives Mpesa agents
Growing the agent network is one of the most challenging parts of a mobile payment system.
"The number one cost for most agents was liquidity management – moving cash. Agents report a host of expenses, including bank charges, transport costs, and fees to aggregators who advance commissions and provide easy float/cash swaps for agents. On average, liquidity management consumed 30% of total expenses."
Asynchronous Info, Disjointed Data and Crisis Reporting
Jon Gosier talks about Uganda's riots and what he's learned in the process.
Africa's diaspora and the cloud
Teddy Ruge writes a great essay on the web and Africa's diaspora.
"There's a cloud gathering over Africa; a storm of connected thoughts and ideas that are pushing African countries violently forward. The Diaspora is using emerging web technologies in increasing numbers, frequency, and variety to stay connect with Africa, simultaneously charting a new digital course for it's economic independence on the world stage."
New Africa broadband 'ready'
The BBC Digital Planet team is in Kenya and doing a knock-up job of interviewing people about what's going on around the tech space there.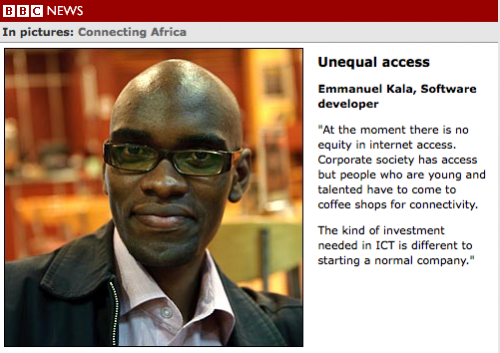 (Note: all the people in the BBC "in pictures" for this day are part of the Ushahidi extended dev team in Kenya)
Mobiles offer lifelines in Africa
Ken Banks writes about mobile phone growth and development in Africa, stating "Africans are not the passive recipients of technology many people seem to think they are."