Africa has 415,010,625 mobile phone subscribers, with an average growth rate across the continent of 5.4% between Q1 and Q2 2009.
Blycroft does an excellent job of aggregating data on African mobile phone markets each quarter. They've compiled their report for Q2 2009 which includes subscriber numbers and other useful data, titled "The Africa and Middle East Mobile Telecoms Market in Figures 2Q 2009". The mobile data includes GSM and CDMA networks, but excludes fixed and CDMA-wireless networks, which are classed as an extension of the fixed network. Make sure you get over to their site and pickup the full report, available for £399.
Mobile subscriber growth numbers by African region: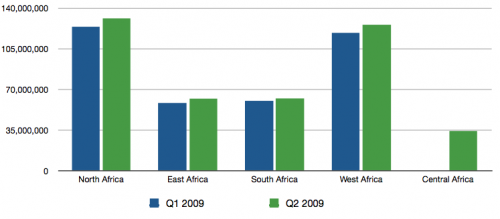 comparing Q1 to Q2 2009
Statistics for the North Africa region for 2Q 2009 cover 6 states and 131,109,223 subscribers, up from 123,903,195 in 1Q 2009, and representing a net gain of 7,206,028 ( 5.8 percent)
Statistics for East Africa cover 12 states and 61,983,813 subscribers, up from 58,257,266 in the previous quarter – an increase of 6 percent. Year- on-year growth saw some additional 18,382,201 mobile subscribers in the region; a growth of 42 percent.
Statistics for South Africa cover 10 states and 62,175,521 subscribers, up from 60,093,764 in the previous quarter – an increase of about 3.5%
Statistics for West Africa cover 16 states and 125,616,329 subscribers, up from 118,644,669 in 4Q 2008 – an increase of approximately 6%.
Statistics for Central Africa covers 11 states, and 34,125,739 subscribers. (Note: I'm missing the Q1 2009 numbers for Central Africa, if you have them, please pass them on so I can update the chart)
Top 20 African States by Mobile Penetration
There's not much available in the non-pay version to see, in fact, they've removed almost every meaningful number and graph. However, there is one graphic covering the top 20 African states by mobile penetration.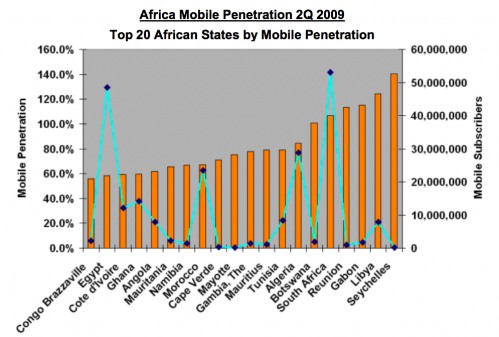 As usual, South Africa and Egypt show large subscriber numbers, both at around 50 million users. Interestingly, penetration in South Africa is over 100%, but is still only at 60% in Egypt, meaning there will be much more growth there than South Africa in the future.
When discussing penetration rates, we always see a higher proportion of small and island countries due to the fact that it takes a lot less mobile users to have a significant percentage covered. Unfortunately, that's somewhat meaningless in a chart like this, because they're mixing small with large countries. More useful would be two charts that are separated on population levels.