"The African Scifi factory is a highend production facility located in Thika-Kenya, dedicated to re-establishing popular African science and fiction narrative using animation ..."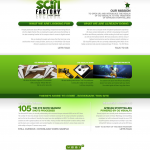 The African Scifi Factory in Thika, Kenya sounds like a great place. It looks like one too, their site looks pretty good. However, no one will ever hear of them or find them online through a search engine. That text above, it's their meta name="Description" tag, and it's about the only thing that Google or any other search engine can see about them. They're virtually invisible to the web.
It's 2010 and we still have people designing websites in pure images (as above) or Flash. It doesn't make sense. Why the need to hamstring yourself, your business and your clients by not designing an XHTML site?
The African Scifi Factory isn't the only one, I'm just using their site as an example. We actually have designers being trained today who only learn how to use Flash. We have others who still don't know how to handcode HTML and CSS. I still see CVs and resumes from "serious" designers who use Dreamweaver to create websites.
There are no borders on the web
We all need to realize that we live in a global ecosystem, especially online. There are no borders in this space.
If you're a web designer who does crappy XHTML and CSS, then know that you're becoming less relevant with every day that you don't learn your trade better and update your skills. Kids in the Ukraine, Indonesia and elsewhere are eating your lunch. I can Google a PSD to HTML business in 5 seconds, take the top result, and have my designs put into excellent XHTML/CSS for as little as $45. Why should I use your services? What do you offer that's so much better?
You're not a quality web designer if you can only put together a fancy looking Photoshop file, that makes you a designer. A web designer needs to know how the HTML and CSS work, understand user-interaction and usability of the functions in the design and be able to create bulletproof markup.
Design and Coding
Interestingly enough, the programming community in Africa seems to be better off than the web design community. There seems to be a lot more quality programmers per capita than there are quality web designers per capita.
Why?
What will it take for us to take our web design skills as seriously as our programming skills?
[Update: African Scifi Site fixed by local Kenyan web designer]
A young designer by the name of Martin Kariuki decided to take the specific example of African SciFi Factory into his own hands after this blog post, and re-created the whole site in HTML. See his blog post and work on this here.
Great job by Martin for doing this! Impressive initiative and a nod to the goodwill in this community.