Mxit is a massive mobile social network that was started in South Africa a couple years ago. Today, Safaricom announced a partnership with them, using their marketing muscle (7 pages of ads in today's newspaper) to import Mxit into Kenya.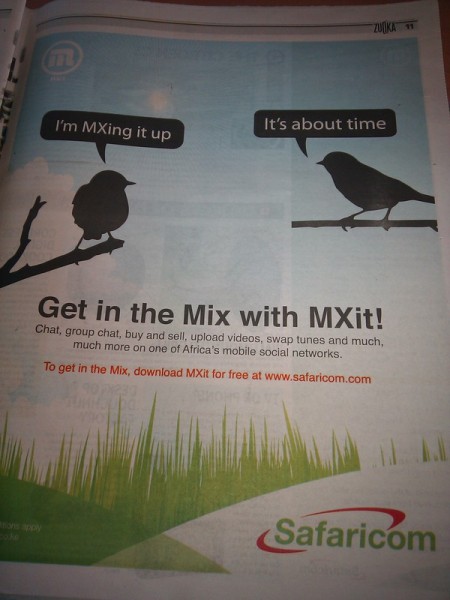 [For the time being, we'll ignore the complete ripoff of Twitter in their marketing...]
Mxit is a free instant messaging platform that uses the data network, thereby making it cheaper per message than sending an SMS. They claim 19 million users, most a younger demographic, who spend time chatting with friends or in chat rooms. MXit also supports gateways to other instant messaging platforms such as MSN Messenger, ICQ and Google Talk.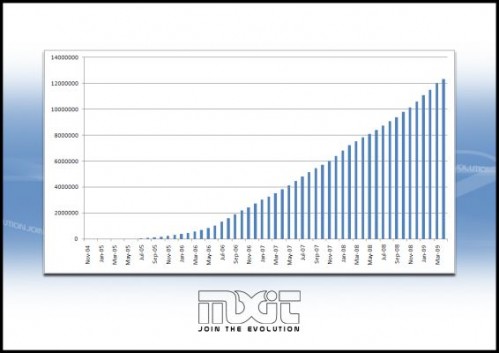 Local apps and entrepreneurs react
This should be a slap in the face to Kenyan programmers and tech business entrepreneurs. The model to build the same type of mobile social network has been openly working and available to do for at least three years.
To be fair, Mbugua and the Symbiotic team tried to create something like this a year ago, called Sembuse. Both he and Idd Salim aren't very happy about this latest move, claiming that Kenyan entrepreneurs can't get the same access or opportunities as their South African counterparts.
From Mbugua:
"The issue is not that they have a partnership with Mxit but that from personal experience, local developers and companies suffer greatly in their quest to have such partnerships."
From Idd:
"Most likely, the marketing retards at Safcom were convinced to believe that Mxit will increase data ARPU for Safcom. Mxit is meant to be a replacement to SMS. … So Instead of sending an SMS, you will use Mxit. Safaricom will lose KSHS 3.5 per SMS, but gain KSHS 0.003 per data exchange over Mxit. Talk of Safaricon Conned! Pwagu amepata pwaguzi."
The issue with Safaricom
On one side, the Sembuse team have a point. Safaricom has been promising to open up their API and platform for real extension. This has never been fulfilled. They have promised to (honestly) engage with the local programming community, and this hasn't happened either. They were publicly called out on all of these facts and more at the Mobile Web East Africa conference this year.
In many ways Safaricom walks arrogantly through the Kenyan market, lying, stealing and cheating their way to even larger profits. However, they also push the edges. While others are happy to sit back and make their current margins, Safaricom takes risks and eats their lunch. Innovation, whether it's home built, bought or stolen still has the same effect.
Business reality
For whatever reason (marketing, value add, etc), Sembuse didn't catch on – it hasn't reached critical mass. Numbers of users, rather than technology ability even when it's better, are the things that larger companies are looking for in this type of play. If you don't have half a million users, you aren't even in the game.
Though I'm no Safaricom apologist, I can't fault them for making a decision to go with a tested product from an established business. Yes, SMS is currently a cash cow, especially here in Kenya. However, everyone can see the writing on the wall: data is the future, and controlling the channel is more important than anything else.
As David Kiania from the Skunkworks list noted, "Rule No. 4 in business: Cannibalize your revenue and business model before your competition does it for you."
I'm more disappointed that no Kenyan company has been able to make a go at this by themselves, just like Mxit did years ago. You don't need Safaricom or any other mobile app provider to be successful in this space, Mxit if anything, has proven that.
Like I said 2 years ago, this is a sure win if you can pull it off correctly. The technology to do this is not new, as Idd Salim points out as well, neither is the model – so you know that the strategy here is on marketing and communications to show the value add to potential customers.
More than anything else, Kenyan entrepreneurs should be upset with themselves for missing a sure opportunity, not upset with Safaricom for making a good business decision.